Premium Inca Trail to Machu Picchu 5D/4N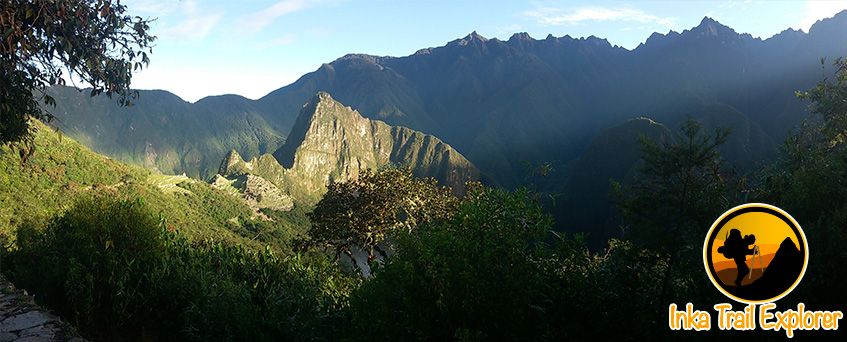 The 5-day version of the Inca Trail Tours to Machu Picchu takes you on the ancient path through beautiful native forests and astonishing Inca ruins. The main advantage of this trek is that you will have the chance to appreciate the sights and experiences in peaceful seclusion because we hike at a more leisurious pace at a time when most hikers aren't near that area of the trail. When you choose the Premium Inca Trail Tours to Machu Picchu, you hike shorter distances per day, and you stop at campsites with very few people. This way you'll have the opportunity to better enjoy the phenomenal sunrises and sunsets over beautiful snow-capped mountains. The quietness and tranquility also increases your chances of spotting the more timid wild animals.
Overview
Inca Trail Tours- Overview
Starting altitude – 8,920ft / 2,720m
Highest altitude – 13,780ft / 4,215m
Walking distance – 26miles / 45km
Longest day – Day 2, approximately 9.9 miles / 16km
Coldest night – Day 3 around 0° Celsius
Overall difficulty – Moderate
Itinerary
Inca Trail Tours – Itinerary
Day 1: Cusco – Piscacucho (Km.82) – Hatunchaca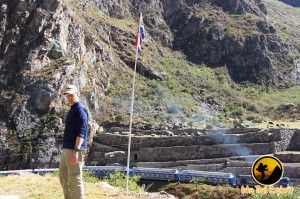 We will pick you up from your hotel at scheduled time and take you in our private van to trailhead located at km 82. From the starting point of the Inca Trail tours, we will travel through the beautiful Sacred Valley of the Incas. The hiking diffuiculty on the first day is relatively low, but it does help you to mentally and physically prepare for the trekking to come. During the first day, we'll cover about 10km of the trail, all of which will be in the Hatunchaca valley. While here, we'll pass by incredible, archaic ruins and enjoy the picturesque mountain views along with various species of plants and animals. Our campsite for the night is in Hatunchaca (2,900m/9,454ft) which is further behind on the trail than the most frequented campsites of other hikers.
Day 2: Hatunchaca – Pacaymayo

On the second day, we will wake up early in order to begin our ascent to Dead Woman's Pass. As we make our way up the mountain, we will be accompanied by the fantastic views of ice-covered mountains and the cloud forest. This first stretch is the most difficult part of the Inca Trail hike because it consists of an abrupt and steep ascent that stretches for 9km; it does, however, bring us to the first mountain pass on the trail. Luckily, we only climb halfway up the pass since we have plenty of time to reach our destination. We are going to stop at Llulluchapampa—a perfect place to enjoy lunch. More importantly, this is the last place to buy any last essentials that you may need.
From here, the landscape dramatically changes as cloud forest collides with the dry highlands of Puna which is characterized by little vegetation such as herbs and grasses. It is here where we'll have the chance to spot llamas lazily grazing on Ichu grass. It's a 2 hours walk up to the pass (4,215m/13,780ft). Once you reach the summit you feel like you are amongst the celestial heavens due to the unbelievably amazing views. After an enjoyable time of relaxing, we'll head down to the other side of the mountain to the campsite of Pacaymayo. Altogether, the descent normally takes a couple of hours.
Day 3: Pacaymayo – Phuyupatamarca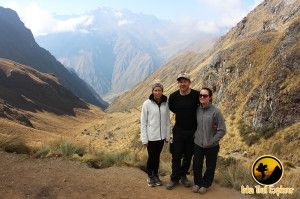 After breakfast, we will continue our Inca Trail Tours up the opposite side of the valley. As we make our way towards the second pass on the trek, we will pass by roaring waterfalls, ancient Inca ruins, and exquisite flora and fauna. After crossing through the pass, we will once again begin our descent back into the cloud forest where we'll find Sayacmarca—one of the most beautiful ruins on the Inca trail. Fortunately, we are going to have plenty of time to explore and enjoy the beauty of this place.
Following our time at Sayacmarca, we will walk 20 minutes to reach Chaquicocha which is the perfect place to enjoy lunch. Afterwards, we'll continue our hike up gradual inclines until we come to our final campsite, Phuyupatamarca (3,680m/11,996ft). This part of the Inca trail circumvents the mountain allowing us to experience the beautiful sights of the Vilcabamba mountain range in the distance. This area is also characterized by an abundance of plants and wildlife. In total, the walk to our campsite will take about 2 hours. Upon our arrival, we'll get our first view of Machu Picchu Mountain and the Urubamba River in the valley down below. After setting up camp, we will have time to explore the Inca site and relish in the last fiery rays of the sun as it sets over the snow-capped peaks.
Day 4: Phuyupatamarca – Wiñaywayna– Machu Picchu – Aguas Calientes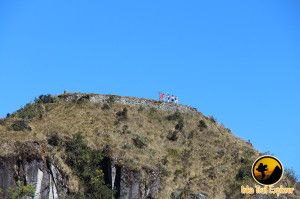 This day's focus will solely be on the Incan ruins! We will be visiting 3 beautiful Inca sites before finally arriving to the ancient city of Machu Picchu a bit later in the day. Since we will only have a short distance left to cover, you will have the opportunity to really explore the first two sites in great detail. Furthermore, you'll learn more about Incan culture and Machu Picchu in preparation for the first upcoming visit. After a 3 hour descent, we will arrive to our third site, Wiñaywayna—a beautiful Incan site considered to be the largest ruins along the Inca trail. The tour of this archaeological complex will be followed up with our final lunch with our porters where we'll have to bid them farewell before we go to Machu Picchu.
Traditionally on the Inca trail, we have a thanking ceremony for all of the hard work the porters and cooks have put in, and if you want, you can leave a tip for them at this time. The final stretch of the Inca trail trek is completely deserted at this time of day, so our arrival to Machu Picchu via the Sun Gate (Inti Punku) will permit us the perfect chance to enjoy the sunset in peace. We'll also have a short Machu Picchu tour without the disturbance of too many people meaning we'll be able to get some great photos of the citadel. At the end of the day, we will catch a bus down to Aguas Calientes where we will check into the hotel for a great night's rest so that we will be fully prepared for all of the excitement tomorrow.
Day 5: Aguas Calientes – Machu Picchu – Cusco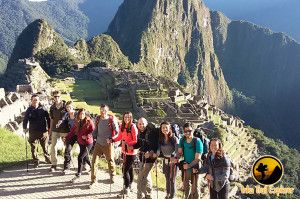 After breakfast at your hotel, you will catch the bus to the Sacred City of Machu Picchu. This is only a 20 minute journey through a beautiful mountain jungle. Finally once you arrive in the citadel, your guide will take you on a tour that will cover the most important temples and palaces of the city. Afterward, you will have extra time to explore the ruins on your own. If you have booked a permit to climb Huayna Picchu or Machu Picchu Mountain, this will be the time for you to enjoy these amazing monuments. Then, we will have to catch the bus back to Aguas Calientes and a train that usually departs in the afternoon to Ollantaytambo. From there, we will take a bus back to Cusco.
Inclusions
What's Included on the Inca Trail Trek
Professional tour guide
Inka Trail Explorer has a staff of tour guides with many years of experience of trekking. They've all studied tourism and English at a university. They also share a passion for history, archeology, astronomy, and teaching you about their heritage.
Entrance Fee
Inka Trail Explorer covers all entrance fees and tickets. This includes but is not limited to the following: entrance on the Inca Trail, the entrance to and the tour of Machu Picchu, the busses and train fares, and the fee for climbing either Waynapicchu or Machu Picchu Mountain, it depending on the availability.
Briefing
The night before the Inca Trail tours, your guide will give you all detailed information about the trek schedule. You'll also you get your duffel bag in which you will pack all your personal items totaling no more than 7kg/14lbs. This has to include your sleeping bag and air mattress (if you brought or rented one).
Porters
The number of porters on the trek directly depends on the size of the party. These amazing guys are in charge of transporting all camping equipment, food supplies and your personal duffel bags.
Transportation
All transportation is included in the Inca Trail to Machu Picchu tour. We do airport pickup, and we will take you to the head of the trail. We also include the bus from Machu Picchu to your  hotel, followed by the bus to up and down Machu Picchu on the next day. There's also the train from Aguas Calientes to Ollantaytambo and the bus to Cusco. Our train service is Expedition Class, but it can be upgraded to the Vistadome train.
Camping Equipment
Our camping equipment is of the best quality and very comfortable. Each tent will be shared by 2 people unless you request a single tent. We also provide a spacious dining tent and kitchen tent.
Hotel
A 1-night stay in a 3-star hotel in Aguas Calientes is included on the fourth night. Everyone will be sharing a double, matrimonial or triple bed room. If you'd prefer a single, then there is a $30 USD surcharge per person. All rooms include private bathrooms with hot showers and Wi-Fi. We can also upgrade your hotel if you prefer something a little fancier. Below under the Optional Upgrade tab is a list of possible hotel options, but we can work with most hotels in Aguas Calientes.
Meals on the Inca trail trek
Our amazing and experienced chefs prepare all of the meals on the trail. More impressively, they make their magic happen in a small tent over a single flame. Always taking our customer's preferences and health into consideration, we provide only all natural, fresh vegetables and properly hand-selected meat from the Peruvian Andes. We honor all food restrictions, but in order to ensure that everything is prepared for you, you should mention any dietary preferences that you may have while you're booking your Inca Trail hike. Our traditional Peruvian and Cuscanian dishes are served family-style. We include 4 breakfasts, 4 lunches, and 4 dinners. Your chef will provide you with a snack to enjoy along the trail each morning.
Water
Beginning from your first lunch until your last breakfast, Inka Trail Explorer will supply all the water you need. This water will be coming straight from glaciers and streams, so it will be boiled, filtered and cooled before being distributed. You must, however, bring your own water bottles or Camelbaks. It's highly recommended that you carry about 3L worth. You'll have the chance to refill your bottle every day during each meal.
What's Not Included on the Inca Trail Tour to Machu Picchu
Sleeping Bag
You will really need a sleeping bag when you choose this trek. Two of our camsites are above 3,500m/11,390ft, and it can get very cold. We highly recommend bringing a sleeping bag for -10°C. These are available to be rented from us.
Inflatable Mattress
It is optional, but it helps in getting a good night's sleep. They are also available for rent, but if you have one, we highly recommend that you bring it with you.
Walking Poles
They're highly recommended because they help keep your balance especially when going down steep inclines. If you are bringing your own, they must have rubber tips. If you do not have any, you can rent some from us.
Huayna Picchu
This amazing mountain stands behind Machu Picchu, and the views from the top are spectacular. It takes 45 minutes to reach the top and 45 minutes back down because it is quite steep. If you are interested to experience this adventure you need to book it in advance. We also highly recommend climbing with the second scheduled group at 10am because the views during this time are so much better.
Breakfast
Inka Trail Explorer does not include breakfast on the first day, but after leaving Cusco, we'll stop at a beautiful restaurant in the Sacred Valley of the Incas before we start hiking. You can buy your breakfast there.
Lunch
Inka Trail Explorer does not include lunch on the last day. After your tour in Machu Picchu, you'll have time to stop in the town of Aguas Calientes. There are several excellent restaurants where you can enjoy a lunch before the train back to Cusco.
Prices
Inca Trail Tours – Prices
We warmly welcome you to have the best possible experience on the Premium Inca Trail tours with Inka Trail Explorer. Our treks can be during any date of the year as long as there are available governmental permits for that day. Permits are only needed for your start date.
This private 4-day Premiuim Inca Trail tour is the best trek to Machu Picchu and can start at any size. We all will do our best to make this the most positively unforgettable experience of a lifetime.
2 people $790 USD per person
3 people $760 USD per person
4 people $730 USD per person
5 people $700 USD per person
6 people $670 USD per person
7+ people $640 USD per person
Discounts
Student Discount: $40 USD (Requires ISIC Card to qualify)
Student Discounts apply to anyone who has a valid GREEN ISIC card at the time of the Inca Trail tours, or is 16 years old or younger. For those using an ISIC card to receive the discount, we do need to see a copy of the card at booking time. For children who are 16 years old or younger, we need a copy of their passport at the time of booking. Please send all information to info@inkatrailexplorer.com
Optional Extras
Inca Trail Tours – Optional Extras
Optional Rentals
Sleeping Bag $25 USD
Walking Pole $8 USD each
Inflatable Mattress $25 USD
Single Tent Supplement $30 USD
Optional Upgrades
Santuario: +$45 USD per person if sharing (+$110 for a single)
Casa Andina: $55 USD pp if sharing ($110 for a single)
El Mapi: +$65 USD pp if sharing (+$170 for a single)
Vistadome train (One-Way): $65 USD per person
Huynapicchu: $65 USD per person
Additional Free Tour 
If you are traveling with family or friends in a group comprised of 4 or more people, then you automatically receive one of our additional tours for free. You may pick any one from the list down below. Please keep in mind that although we include the transportation and a professional tour guide, we do not cover any of the entrance fees and/or tickets for these tours.
Do not worry single travelers! If you travel with us, you will also get special discounts on any of our additional tours.
South Valley Tour
Maras Moray Tour
Sacred Valley Tour
Cusco City Tour
Packing List
Inca Trail Tours – Packing List
Essential
Hiking poles with rubber tips
Hiking boots with ankles support
A head lamp
In Your Duffle Bag
Remember you are packing for 3 nights of camping and 1 night in a hotel. Porters will carry up to 7 kg of your personal items. This must include your sleeping bag and air matt.
3 wicking t-shirts
2 hiking pants
3 sets of undergarments
3 sets of hiking socks
1 fleece jacket
Warm, down jacket (This trek includes 2 cold nights of camping)
Quickdry towel. We provide small ones, but you may want to bring something a little bigger.
Battery Charger: There are no places to plug in any electronics on the trek.
Sleeping bag: We recommend down bags that are suitable for at least -10°C.
Toiletries
Face moisturizer
Hand-sanitizer
Wet wipes
Toothbrush and toothpaste
In your Daypacks
We always recommend bringing a small daypack because any bag larger than 25L will not be allowed inside Machu Picchu. If you have one that is larger, you will need to store it outside of the citadel gates.
Passport Valid
GREEN ISIC card if you booked as a student
The Immigration Card given to you on the plane as you entered Peru
Water: You get water supply from us at each meal.
Bug spray
Sunscreen
Sunhat
Woolhat
Rain gear
Fleece
Camera
Hand-sanitizer
First-aid kit: band aids, moleskin, etc.
Toilet paper and a small plastic bag for waste
Extra money for souvenirs, drinks & tips
Booking
Inca Trail Trek – Booking
How to Book Your Inca Trail Tours
It's always better to contact us directly and to confirm with our team before booking. Once you are ready, please fill out the Booking Form and pay the Deposit of $200 USD per person. Our office will email you back that same day with your confirmation. We always send out confirmations, so if you don't hear from us, check your spam or contact our office and we will resend them.
We are so excited to take you on the Premium Inca Trail Tour, and thank you for trusting us to give you the best possible experience.
---
---
Summary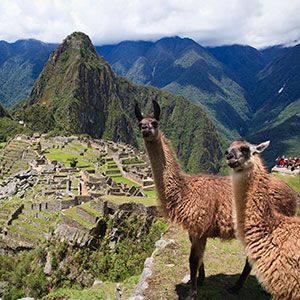 Author Rating
Brand Name
Product Name
Premium Inca Trail to Machu Picchu 5D/4N
---

We Are: Inka Trail Explorer
We are an adventure tour company; we operate treks on the Inca trail, Salkantay, Ausangate, as well as to Choquekirao and Lares. We provide adventures with authentic life, changing experiences in each of our treks. We ensure the quality of our trips, by operating our own programs in Cusco
Short Inca Trail Trek [VIDEO]