Inca Trail Hike to Machu Picchu 3D/2N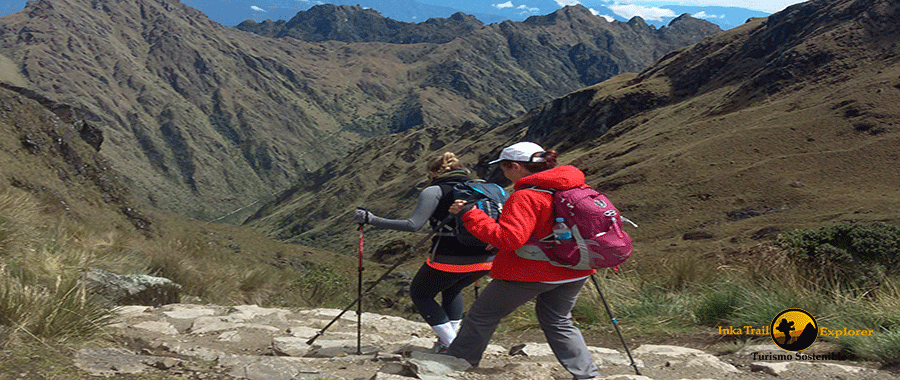 The Inca Trail Hike is one of the most beautiful treks in the world, it goes through the high mountains and ends down in the cloud forest. Do this Inca Trail Hike  in a short time, hike longer distances every day, avoid the crowds and challenge your fitness level. The trail extends 45 km into the national park of Machu Picchu, you will always hiking on the ancient Inca Path, and you have the chance to enjoy the perfect harmony of the Inca constructions with the nature.
Overview
Inca Trail Hike to Machu Picchu – Overview
Starting altitude – 8476ft. / 2600
Highest altitude – 13,780ft. / 4215m
Walking distance – 26miles / 45km
Longest day – Day 1, approximately 10.9 miles / 18km
Coldest night – Day 1 around 0° Celsius
Overall difficulty – Dificulte
Inca trail permits
In order to hike the Inca Trail you must have a permit, which we will obtain for you. To ensure your safety and keep the trail in good condition, the government limits the amount of permits issued to only 500 per day. Everyone must have a permit no matter which Inca Trail you choose (4, 5 or 7 day) and even your guides and porters need permits so they go fast.
Itinerary
Inca Trail Hike – Itinerary
Day 1: Cusco – Km 82 – Llulluchapampa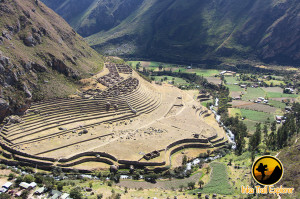 We will pick you up from your hotel at 4am and take you on our van to Ollantaytambo a little town in the sacred valley, where we are going to stop for breakfast and then we go still on our van for another 40 minutes to the starting point of our Inca Trail Hike.
Piscacucho (Km82) located at 2600m / 8476ft from here we will follow the left bank of the Urubamba River for a couple hours with a beautiful scenery until we reach an amazing Inca Complex called Llactapata which is a great appetizing to start this Inca Trail Hike, after enjoy the beauty of this complex we will turn all to the left into the Hatunchaka valley with the great views and we will be hiking on a gently path for couple of hours until we reach a nice small town of Wayllabamba  at 3000m / 9780ft a great place to enjoy our first lunch.
The trail increases in difficulty, because of the altitude and steep, but the scenery does not stop surprising you as we are making our path we will go into a high Andean woodland, from the lunche place we hike 4 until we reach our campsite called Llulluchapampa located at 3800m /12388ft above a perfect place to spent the night.
Day 2: Llulluchapampa – Pacaymayu – phuyupatamarca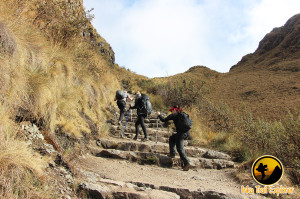 Today will be a big challenge for everybody we have three passes to do in one day. All uphill at least for 2 hours to the first pass called Warmiwañuska at 4215m / 13740ft. this is the highest pass from our trek and then we have to descend on the steep path in the other side of the mountain all the way to Pacaymayu for 2 hours, another perfect place to enjoy our lunch.
Now after lunch we go uphill for 2 hours to the second pass called Runkuraqay located at 4000m / 1340ft  this is a perfect place to enjoy the beautiful mountain ranges of Vilcabamba and Urubamba, after a short break we will descend until Sayacmarca an amazing Inca complex with spectacular views and scenery, obviously today we will be hiking on a better preserved path and more Inca ruins along the trail. After explore this beautiful complex, we will continue with our hiking straight to the third pass Phuyupatamarka 3650m / 11899ft, and it is the same place where we are going to stop for camping.
Hiking distance: 15km
Time: 9 hours
Difficulty: dificult
Day 3: Phuyupatamarca – Wiñaywayna – Machu Picchu Cusco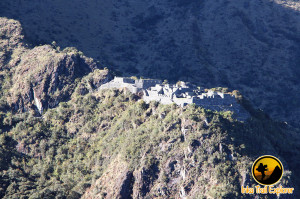 This time we have to start early morning at 3am to be early in Machu Picchu and have enough time to explore Machu Picchu. After an early breakfast we will start to descend on the very steep stairs for 2 – 3 hours until Wiñaywayna located at 2600m /8476ft the most beautiful Inca complex along the Inka trail, after explore this amazing place we continue our hike on a gentle renowned path for its subtropical flora and fauna until the Sun Gate the main entrance to Machu Picchu, it is a nice lookout point, great place for pictures.
Once we arrive to Machu Picchu we will have 3 hours of tour with a professional tour guide, and then you will have plenty of time to explore by yourself this amazing Inka monument. After a great experience in Machu Picchu we will take the bus to Aguas Caliente town, and then train back to Cusco.
Hiking distance: 11km
Time: 5 hours
Difficulty: moderate
Inclusions
Included on Inca Trail Hike
Aiport/Hotel
Inka Trail Explorer include 1 way transfer from the aiport to your Hotel, just we need to know your flight schedule, one of our transers will be waiting for you with the Inka Trail Explorer Logo.
Professional Tour Guide
Our Tour Guide staff is highly prepared in tourism and with many years of experience in trekking, they all are passionated in the History, Archeology, and also in the Astronomy, they always will be happy teaching you about their heritage.
Briefing
The night before the Inca Trail Hike, your Guide will give you all detailed information about your trek schedule, an also you will get your duffel bag, which is to fix your personal items 7kg / 14lbs you have to include your sleeping bag and air matt in case you have or rented.
Porters
These guys are in charge to transport all the camping equipment, food supplies and your personal duffel bags on the Inca Trail, these amazing people will be your motivation to complete this adventure trek to Machu Picchu.
Transportation
When you choose Inka Trail Explorer you  you do not have to pay any extra for the transportation, on the first day we pick pick you up from your hotel and when you finish the trek we take you back on our private van to Cusco and leave you in your hotel, our train service is expedition class it can be upgraded to the Vistadome train.
Camping Equipment
Our camping equipment is from the best quality and very comfortable, each Tent will be shared by 2 people, except if you request for a single tent, we provide spacious dining tent and kitchen tent.
Entrance Fee
When you travel with us you do not have to be worry about any thing, just go and enjoy your trek, you have included all the entrance fee to the Inca trail and Mach Picchu, Inka Trail Explorer arrange every thing for you.
Meal
Our amazing and experienced chefs they prepare all the meals and they make magic happens during the trek. Always taking care of our travelers health we provide all natural and fresh vegetables and selected meat proper from the Peruvian Andes. We honor all food restrictions, but you should mention when you are booking your trek. Food is served family style and you will enjoy our traditional dishes from Peru and Cusco.
Water
Water is very important on the trail, so we provide water since first day lunch until the last day breakfast of your trek, we are going to refill your botles every day at breakfast, lunch and dinner, the water we provide is boiled, cooled and filtered.
Not Included on Inca Trail Hike
Sleeping Bag
You really need a sleeping bag when you choose the camping option. 2 of our campsites are above (3,800m /12,380ft), We highly recommend bring Sleeping bag for -10C (it can be rented from us).
Inflatable Air Matt
It is optional but it helps in getting a good sleep, (it can be rented from us). If you have your own we highly recomment bring with you.
Walking Poles
Highly recommended. It helps to keep your valance especially when you go steep downhill and it must have a rubber tip when bringing your own, if you do not have (it can rented from us) $/15.00 aluminous professional walking poles.
Huayna Picchu
Wayna Picchu Mt stands behind Machu Picchu; the views from the top are spectaculars. It takes 45 minutes to reach the top and 45 minutes back down it is quite steep.If you are interested to experience this adventure you need to book in advance, and also we highly recommend climp in the second group which is at 10am and you have so much better views.
Breakfast
Inka Trail Explorer does not include Breakfas from the first day, but we stop somewhere in the Sacred Valley where you can buy your breakfast before you start hiking.
Lunch
Inka Trail Explorer does not include the lunch from the last day of the trek, but after your tour in Machu Picchu you have time to stop in Aaguas Calientes, we can recommend you some good restaurants.
Prices
Inca Trail Hike – Price
Inka Trail Explorer Warmly welcomes to you and we really want to make the best experience for you on the Inca Trail, our departure treks can be any day of the week as long as permits remain with the government; permits are only needed for your start date.
Private Tour Service is available and priced by party size
The Inca Trail is the best trek to Machu Picchu, even better if you do just with your friends or loved ones.  Our private trek can start with any size and we will do all our best to make the best experience for you.
2 Hikers: $670 per person
3 Hikers: $650 per person
4 Hikers: $630 per person
5 Hikers: $600 per person
6 Hikers: $570 per person
7 Hikers: $550 per person
8 or more Hikers: $530 per person
Discounts
Student Discount: US$25 (Requires ISIC Card to qualify)
Student Discounts apply to anyone who has a valid GREEN ISIC card at the time of the trek or is 16 years old or younger. For those using an ISIC card to receive the discount, we do need to see a copy of the card at booking. For those booking children 16 years old or younger, we need a copy of their passport at booking time. Please send all to info@inkatrailexplorer.com
Optional Extras
Inca Trail Hike – Optional Extras
Optional Rentals
Sleeping Bag US$15
Walking Pole US$6
Inflatable Mattress US$15
Single Tent Supplement US$20
Optional Upgrades
Vistadome train (One Way): $65 per person
Huynapicchu: $65 per person
Additional Free Tours
If you are traveling with the family or friends and you are 4 or more people in your group, you automatically get for free one of our additional tours what you like more from the List down below. Plese, we do not include the entrance feeds, we include the transportation and a professional tour guide.
Do not worry single travelers, if you book any treks with us, you get a special discounts on any of our additional tours
South Valley tour
Maras Moray Tour
Sacred Valley Tour
Cusco City Tour
Packing List
Inca Trail Hike – Packing List
Essential
Hiking Poles with rubber tips
hiking boots with ankles support
head lamp
PassportValid
Green Isic card (if you booked as a student)
Immigration Card (given on the plane as you enter Peru)
In your Duffle Bag
Remember you are packing for 2 nights of camping and porters will carry up to 7 kg of your personal items. This must include your sleeping bag and air matt
2 wicking t-shirts
2 hiking pants
3 sets of undergarments
3 sets of hiking socks
1 Fleece
Warm, down jacket: this trek includes 2 cold nights camping
Quickdry towel. We provide small ones.
Battery Charger: There is no place to plug in while trekking!
Sleeping bag: Recommend down bags for -10C at least
Toiletries
Face moisturizer
Handsanitizer
Wet wipes
Toothbrush and paste
In your Daypacks
Daypacks we always recommend  small one. Inside Machu Picchu no bag larger than 25L will be allowed in. If larger, you will need to store outside citadel gates.
Water: we supply clean water at each meal, 2/3L for day. You are responsible for your first morning of water only as we won't have time to filter water until your first lunch.
Bug spray
Sunscreen
Sunhat
Woolhat
Rain gear
Fleece
Camera
Handsanitizer
First aid kit: band aids, moleskin, etc.
Toilet paper and small plastic bag for waste
Extra Money for Souvenirs, Drinks & Tips
Booking
How to book
It's always better contact us directly and confirm with our team before your booking. Once you are ready, please fill in our Booking Form and pay the Deposit of $200 US per person. Our office will email you back that day with your confirmation. We always send out confirmations, so if you don't hear from us, check your spam or contact our office and we will resend.
We are so excited to take you on the Inca Trail and thank you for your preference to us
---
---
Summary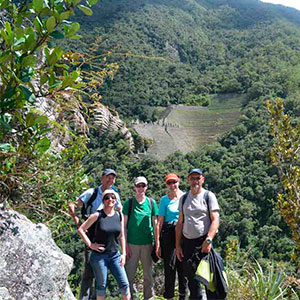 Author Rating
Brand Name
Product Name
Inca Trail Hike to Machu Picchu 3 Days
---

We Are: Juan de Dios Aedo
Short Inca Trail Trek [VIDEO]