Rainbow Mountain Peru Trek 2D/1N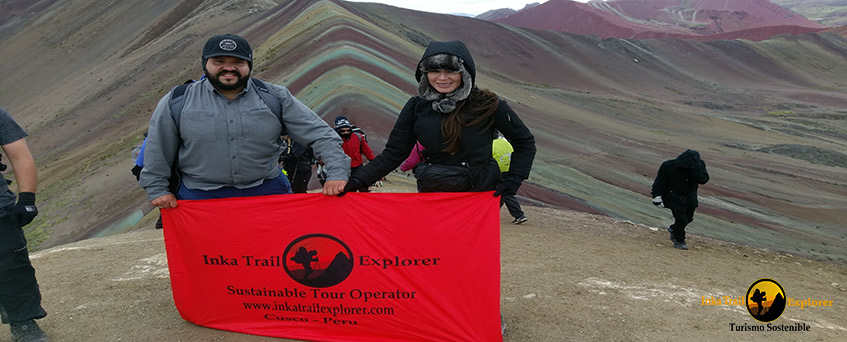 The Rainbow Mountain Trek provides something that is not seen anywhere else on this continent and only in one other place in the entire world (China). This is the spectacular, recently discovered Rainbow Mountain Peru trek and officially named Vinicunca. The majesty of this trek is unique and hard to put in to words, but the best comparisons are to Iceland and Mount Kilimanjaro in Africa. Your mind will be blown by the wealth of waterfalls and turquoise lakes.
In addition to the scenery, you will see herds of Alpacas, Llamas, and Vicuña, which has the finest and the most expensive wool in the world. You have the opportunity to interact with the locals and learn about their traditions.
Overview
Rainbow Mountain Peru Trek  – Overview
Starting altitude – 13,756ft. / 4200m
Highest altitude – 16,365ft. / 5020m
Walking distance – 14km /9.33 miles
Coldest night – Day 1 around 0°
Overall difficulty – moderate
Crowds: Few to None
Itiinerary
Rainbow Mountain Peru trek – Itinerary
Day 1: Cusco – Pitumarka – Quesiuno – Llamachimpana
We pick you up early in the morning from your hotel and we travel on our Van through the South Valley. The drive to Quesiuno the (trailhead) takes 3 hours, once we reach the Inkintuyoc Bridge, our chef will prepare an amazing breakfast.
After a great breakfast, we will load all the gear on the horses and begin our hike uphill, following a beautiful stream, we will be immediately surprised by the literally herds of alpacas and llamas, we will have consistent views of the Ausangate Mountain. the trail goes through villages and interact with the locals. On the Rainbow Mountain Peru trek we have the opportunity to see chinchillas and vicuñas. Vicuña is the only non-domesticated animal from the Andean Camelids family in Peru.
After we hike 3 or 4 hours, we will reach our camp Ccayrabiri, near the village of Llamachimpana. After a great hike we deserve a fantastic lunch before we continue with our day activities. After lunch and after a little siesta, we go and explore the village and have the opportunity of interact with the locals. You will be amazed with their local customs and they love to share their history with trekkers. We can participate actively with their agriculture activities.
We then return to camp where we will have happy hour and dinner. When night falls, we will have a serene night´s sleep under the stars.
Day 2: Llamachimpana – Rainbow Mt – Quesiuno – Cusco
We wake up with a cup of hot coca tea and the gorgeous sunrise. Our cook will prepare an amazing breakfast to start the day. We really love to do all the best experience for our clients, we think our early start help us to be first one on the Rainbow Mountain and we can enjoy the beauty, the peace and the tranquility before 3 or 4 hundred people arrive there.
On the way up you will have stunning views of, the Ausangate glacier, red mountains and Surine Mountain, until we reach the Rainbow Mountains (5,030 m / 16,485 ft). After getting over the shock of their beauty, we will have time to explore the area. We will have time to take pictures and soak in the environment. We will spend approximately 1hour at the top.
After a great hike and a great lunch, we will embark on the 3 hour drive back to Cusco and drop you off at your Cusco hotel. Approximate arrival time is 3 or 4 pm
Inclusions
Included on the Rainbow Mountain Peru trek
Professional Tour Guide
Our tour guide staff are highly prepared and ready to take you on this adventure, they studied tourism and English at University. They all are passionate in the history, archeology, geology and also in the astronomy, they always will be happy teaching you about their heritage.
Briefing
The night before the trek, your Guide will give you all detailed information about your tour schedule and give you all the instruction for this adventure.
Transportation
Transportation is included in this tour from the beginning of your tour until the end of your tour, we are going to pick you up from your hotel in the morning and leave you in your hotel at the end of the tour.
Camping Equipment
Our camping equipment is from the best quality and very comfortable, each Tent will be shared by 2 people, except if you request for a single tent, we provide spacious dining tent and also kitchen tent.
Horses
We do use Horses on this trek. Horses are going to carry all camping equipment, food supplies and your duffel bags. Also we include an emergency horse for the group on this trek, if you feel tire or need a break, so an emergency horse is waiting for you.
Food
Our amazing and experienced chefs, they prepare all the meals and they make magic happens during the trek in a small tent over a single flame. Always taking care of our customer's health we provide all natural and fresh vegetables and selected meat proper from the Peruvian Andes. We honor all food restrictions, but you should mention as soon as you are booking your trek. Food is served family style and you will enjoy our traditional dishes from Peru and Cusco. We include 2 Breakfast, 2 Lunches, 1 Dinners and each day in the morning your chef will provide you a snack to enjoy along the trail.
Water
beginning from your first lunch until your second day lunch, Inka Trail Explorer will supply all the water you need. The water you will get from us is straight from the glaciars and streams, it will be boiled, filtered and cooled before it will be distributed. You must bring your own water bottles or camel back. Highly recommended carrying about 3L, you have the chance to refill your bottle every day at each meal.
Not included on the Rainbow Mountain Peru trek
Airport/Hotel
Inka Trail Explorer does not include the transfer from the airport to you hotel, but if you really need a transfer we can arrange for you, see optional Extras.
Sleeping Bag
You really need a sleeping bag when you choose the camping option, our campsite on this trek is above 4500 /14,690ft) it can be cold. We highly recommend bring Sleeping bag for -10C (it can be rented from us)
Inflatable air Matt
It is optional but it helps in getting a good sleep, (it can be rented from us). In case you have your own, we highly recommend bring with you.
Walking Poles
Highly recommended. It helps to keep your valance especially when you go steep downhill and (it can rented from us).
Dinner
Dinner is not included on the last day, but we can recommend you some good Restaurants in the City of Cusco.
Prices
Rainbow Mountain  Peru Trek – price
Inka Trail Explorer warmly welcomes to you, and we really want to make the best experience for you.
Price 2016 Group Service USD 365
A group Service means that it is open to other Hikers to join you. Your group will have varying hiking and fitness abilities. All our Guides are experts on how to keep the trek moving and happy no matter how fast you go.
Private Service is available and priced by party size
2 Hikers US$400 per person
3 Hikers US$375 per person
4 Hikers US$350 per person
5 Hikers US$320 per person
6 Hikers US300 per person
7+ Hikers US$280 per person
Optional Extras
Rainbow Mountain Peru trek – Optional Extras
Optional Rentals
Sleeping Bag US$10
Walking Pole US$5
Inflatable Mattress US$15
Single Tent Supplement US$15
Additional Tours
South valley tour: $160 per group of 6 if booked with this trek
Maras Moray tour: $160 per group of 6 if booked with this trek
Packing List
Rainbow Mountain Peru trek – Packing List
Essentials
Passport
Valid, GREEN ISIC card (if you booked as a student)
Immigration Card (given on the plane as you enter Peru)
Good daypack
Camelbak is recommended – but enough for at least 2-3 liters.
Comfortable hiking boots with ankles support
Walking Poles
Headlamp: essential
In your Duffle Bag
Remember you are packing for 1 nights of camping. Horses will carry up to 7 kg of your personal items. This must include your sleeping bag and air matt
2 wicking t-shirts
2 hiking pants
2 sets of undergarments
2 sets of hiking socks
1 Fleece
Warm, down jacket: this trek includes 1 cold night camping
Waterproof gloves
Quick dry towel. We provide small ones.
Small bottle of soap: we provide warm water each day to clean
Battery Charger: There is some place to plug in at the camping area!
Large plastic bags: to help organize and keep clean from dirty.
Sleeping bag: Recommend down bags for -10C at least
Toiletries
Face moisturizer
Wet wipes
Toothbrush and paste
In your Daypacks
Daypacks can be any size for hiking, but we always recommend small.
Water: we supply clean water at each meal. You are responsible for your first morning of water only as we won't have time to filter water until your first lunch.
Bug spray
Sunscreen
Sunhat
Woolhat
Rain gear
Fleece
Camera
Handsanitizer
First aid kit: band aids, moleskin, etc.
Toilet paper and small plastic bag for waste
Extra Money for Souvenirs, Drinks & Tips
Booking
Rainbow Mountain Peru trek – Booking
How to book
It's always better contact us directly and confirm with our team before your booking. Once you are ready, please fill in our Booking Form and pay the Deposit of $200 US per person. Our office will email you back that day with your confirmation. We always send out confirmations, so if you don't hear from us, check your spam or contact our office and we will resend.
We are so excited to take you on the Trail and thank you for your preference.
---

We Are: Juan de Dios Aedo
Short Inca Trail Trek [VIDEO]