Choquequirao Trail 5D/4N
The Choquequirao trail features breathtaking views amongst spectacular landscapes and canyons. Amazingly, all of these different places have their own microclimates that host a wide diversity of wild life and vegetation. The Choquequirao trail is an incredibly adventurous trek in the Cusco region, and it provides the perfect means to get off the beaten path. The rarely visited city of Choquequirao was one of the last bastions of resistance and refuge of Manco Inca (the Son of the Sun) who fled Cusco after his seige of the city failed in 1535.
However, if you're interested in this challenge and in gaining a unique experience that most would not dare to attempt, then you should hurry and book your trip soon because recently, the Apurimac Regional Government has declared the construction of a cable car to the ruins as a top priority. This will reduce the 2 day trek to a 15 minute ride. It has been estimated that the contruction will generate over 200,000 tourists within the first year. The sanctity and tranquility of the beautiful Apurimac Canyon and the stunning Inca city of Choquequirao will be effectively eradicated.
Overview
Choquequirao Trail – Overview
Starting altitude – 9,515ft / 2,900m
Highest altitude – 10,106ft / 3,100m
Walking distance – 26 miles / 45km
Longest day – Day 2, approximately 6.93 miles / 12km
Coldest night – Day 2 around 8° Celsius
Overall difficulty – very difficult
Itinerary
Choquequirao Trail – Itinerary
Day 1: Cusco Capuliyoq – La Playa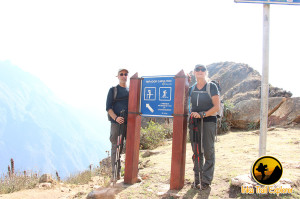 We will pick you up from your hotel at 4:30am in our private van, and we'll drive for about 4 hours until we reach Capuliyoc—the starting point of the trek (2,900m). There, we'll meet up with our team and our professional chef. They are responsible for setting up camp, carrying all of the supplies, loading and gathering the horses, and for cooking delicious meals while on the trail. Our chef will serve you your first breakfast as you survey the stunning view of the snowcapped mountains glinting in the morning light. Once you're done eating, we will begin the Choquequirao Trail adventure. On the first day, the walk is all downhill and will last for about 3 or 4 hours or just until we make it to our designated lunch area.
The trail we will be on is made from dirt meaning that it's a little dusty and slippery, but if you have good hiking boots and hiking poles, you will be fine. Breathtaking views of the Apurimac Canyon and its many amazing landscapes—each with its own beautiful and unique flora and fauna—accompany you during your descent. It's another hour after lunch until we reach the campsite of Chiquiska which is located at the bottom of the valley next to La Playa river (1,500m).
DAY 2: La Playa – Choquequirao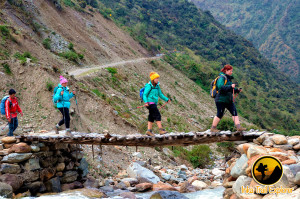 As soon as we cross the river, you can look forward to passing through massive sugar cane farms and tasting a traditional drink called cambray. This delicious beverage offered by the locals is fermented from sugar cane and is quite appropriate because, today, we will have to conquer what are quite possibly the most challenging parts of the Choquequirao Trail. The path we hike today zigzags uphill for about 4 to 5 hours, but as you climb, you are likely to be accompanied by massive Andean condors circling above you. These magestic creatures are the largest flying birds in the world and are sadly an endangered species, but hiking the Choquequirao Trail permits you the rare and amazing opportunity to actually see them in their natural habitat. As you climb, you will also have the chance to fully appreciate just how beautiful the untouched environment is despite its challenges. If you become tired, there will be an emergency horse to help you through some of the sections.
Marampata, located at 3,000m above sea level (9,780ft), features stunning scenes overlooking the trail and the Apurimac. It is also the perfect place to stop and enjoy a delicious lunch. Afterward, we will continue on to the last section of our trek which takes approximately two hours before we finally reach Choquequirao. This area will be by far the most impressive section of the entire Choquequirao Trail. Displayed before you like a scene straight from The Secret Garden, brightly colored orchids stand innocently amongst the ancient stone walls of this awe-inspiring city. The views from the summit absolutely take your breath away as you scan the canyon below. Depending on the season, you may even see a few spectacled bears (also known as the Andean bear). Upon your arrival to the campsite, our porters will set up your tents, and if you have some energy left, you can climb the ruins Choquequirao to enjoy the fiery sunset.
DAY 3: Tour in Choquequirao – Marampata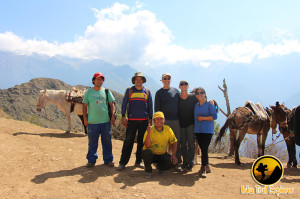 Following an early breakfast, it will be time to begin the most amazing day of the Choquequirao trek. It will take about 30 minutes to get to the ruins, and then we begin our tour. Choquequirao is considered to be bigger than Machu Picchu, but most of it is still hidden by rainforest. The most impressive sectors of this site are the temples, water channels, astronomical observatories, and the location of the site itself. We'll explore the ruins with a professional tour guide who will regale us with the rich Inca history of the site. After about 4 hours, we'll head back to the campsite for lunch and a little siesta.
Following this, we will have more time to continue exploring the massive site. Remember our personal guides are experts in archeology, geology and history. They will gladly inform you of the wonderfully exquisite details that really drive the significance of this place home. You will also get to tour the "Llama Terraces" (colloquially dubbed as the Llamas of Choquequirao). This is a steep downhill 30 minute walk with very narrow farming terraces featuring llamas that were built into the wall with white stones. After this exploration, we are going to walk back to the campsite located in Marampata. Here, we will spend a perfect night enjoying the Inca constellations of the Southern Hemisphere.
DAY 4: Marampata – La Playa – Chiquiska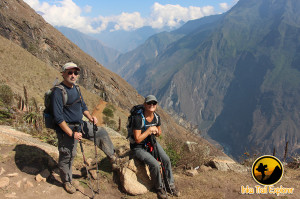 After breakfast, we will begin making our way back to Chiquiska. While admiring the sights of the Apurimac canyon, the guide will point out the distinctive plants and animals that we will come across during our journey. The first 3 hours of the hike is a steep downhill trek to back to La Playa. We more than highly recommend hiking poles for this part.
Once we finally reach La Playa, we can take a dip in the Apurimac River while we wait for lunch to be prepared. It is an ideal way to relax the muscles and to feel refreshed. We highly recommend doing this because after our scrumptious lunch, we have to start climbing to the opposite side of the mountain. Going back to Chiquiska should only take 2 hours, but of course it is all uphill from this point. Assuredly, not only the views but the black bears, condors, humming birds, and other wildlife along the trail definitely make the effort worthwhile.
Day 5: Chiquisqa – Capuliyoq – Cusco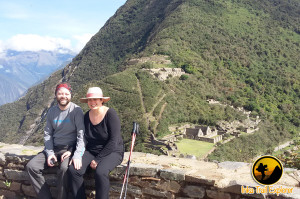 Today is the last stretch of our trek. After an early breakfast, we will start the day by climbing the mountain until Capuliyoq—the starting and ending point of the Choquequirao Trail. After surviving this adventure, you deserve some beers and to enjoy your last lunch with your guide, porters, and horsemen. You'll say goodbye to everyone from your team other than your guide. Together, we will continue on for about 4 hours in our minivan back to Cusco. Along the way, there will be a few stops, and even you'll get to visit Curahuasi where people farm the famous Anis (a local tea). You will be back in Cusco around 6pm, and we will drop you off at your hotel.
Inclusions
What's Included in Choquequirao Trail
Professional Tour Guide
We have professional tour guides amongst our staff that have many years of experience in trekking. All of them have earned a university degree in tourism and English. They all are passionate about Peruvian history, archeology, and astronomy, and are always happy to teach you about their heritage.
Briefing
On the night before the trek, your guide will give you all detailed information about the itinerary. You'll also receive your duffel bag which must fit your personal belongings including your sleeping bag and air matt if you have opted to take one. Altogether, your bag can weigh no more than 7kg (14lbs).
Entrance fee
Inka Trail Explorer includes all entrance fees to the trail and to the Choquequirao ruins.
Horses
We do use horses on this trek. They along with the horsemen come from Cachora—a little town on the way to Choquequirao treks. Horses are going to carry all camping equipment, food supplies and your duffel bags. We also include an emergency horse for every alternative trek in the event that you feel tired or need a break. This way, there will be an emergency horse waiting for you.
Transportation
We include all the transportation for the Choquequirao trek starting from beginning to end of your trek. We pick you up from your hotel, and at the end of your trek, we drop you back off at your hotel.
Camping Equippment
Our camping equipment is of the best quality and is very comfortable. Each tent will be shared by 2 people unless you request for a single tent. We also provide spacious dining and kitchen tents.
Meal
Our amazing and experienced chefs prepare all the meals for us during our journey. They manage to make this magic happen over a single flame in a small tent. Inka Explorer Trail always places high value in taking care of our trekkers' health. We provide only all-natural, fresh vegetables and properly-selected meat from the Peruvian Andes. We honor all food restrictions, but to ensure that we a re fully prepared for you, you should mention any special dietary requirements you may have as soon as you book your trek. All of our traditional Peruvian and Cuscanian dishes are served family style.
Water
Beginning from your first lunch until your last breakfast, Inka Trail Explorer will supply all the water you'll need. The water comes straight from the glaciers and streams, so it will be subsequently boiled, filtered and cooled before being distributed. You must, however, bring your own water bottles or Camelbaks. We highly recommend carrying about 3L worth. You'll have the chance to refill your bottle every day during each meal.
Breakfast
We include breakfast from the first day of the trek until the last.
Lunch
We include lunch from the first until the last day of the trek.
What's Not Included in Choquequirao Trail
Sleeping Bag
You really need a sleeping bag when you choose the camping option. Most of our campsites are above 3,000m (9,790ft), and it can get very cold. We highly recommend bring sleeping bags equipped to handle -10°C. If you do not have one, you can rent it from us.
Inflatable Mattress
This is optional, but it helps in getting a good night's sleep. This may also be rented from us.
Hiking Poles
These are highly recommended because they help to keep your balance, especially when descending steep declines. If you decide to bring your own, they must have rubber tips. If you do not have any, they are available to be rented from us.
Price
Choquequirao Trail – Prices
Inka Trail Explorer warmly welcomes you to allow us to make this the best adventure for every one of you. Our treks can depart on any day of the week 12 months out of the year.
Prices for the 2018 Group Tour service: $570 USD per person
A group service means that other trekkers are able to join you. Although, your group will have varying hiking and fitness abilities, our guides are experts on keeping the trek moving and everyone happy no matter how fast you go.
Our Private Tour service is available and priced by party size.
2 Hikers: $620 USD per person
3 Hikers: $590 USD per person
4 Hikers: $560 USD per person
5 Hikers: $530 USD per person
6 Hikers: $500 USD per person
7+ Hikers: $460 USD per person
Discounts:
Student Discount: $20 USD (Requires ISIC Card to qualify)
Student Discounts apply to anyone who has a valid GREEN ISIC card at the time of the trek or is 16 years old or younger. For those using an ISIC card to receive the discount, we do need to see a copy of the card at booking. For those booking children 16 years old or younger, we need a copy of their passport at booking time. Please send all to info@inkatrailexplorer.com
Optional Extras
Optional Rentals
Sleeping Bag: $25 USD
Hiking Pole: $8 USD each
Inflatable Mattress: $25 USD
Single Tent Supplement: $25 USD
Optional Upgrades
Sacred Valley Tour:

 $180 per group of 6 if you booked with this trek

Maras Moray Tour:

 $160 per group of 6 if you booked with this trek

South Valley Tour:

 $ 160 per group of 6 if you booked with this trek
Booking
How to book
It's always better contact us directly and confirm your trip with our team before booking. Once you are ready, please fill in our Booking Form and pay the $200 USD deposit per person. Our office will email you back that same day with your confirmation. We always send out confirmation invoices, so if you don't hear from us, check your spam folder or contact our office directly, and we will resend them.
Inka Trail Explorer would like to mention how excited we are to take you on the trail, and thank you for placing your trust in us.
Packing List
Essecencials
Passport
Valid, GREEN ISIC card (if you booked as a student)
Immigration Card (given on the plane as you enter Peru)
Good daypack (the smaller, the better)
Water storage: Water reservoir like Camelbaks are encouraged – but enough for at least 2-3 liters.
Comfortable hiking boots with ankle support
What do you need pack in your Duffle Bag?
Remember you are packing for 4 nights of camping . Horses will carry up to 8 kg of your personal items. This must include your sleeping bag and air matt.
2 wicking T-shirts
2 hiking pants
4 sets of undergarments
3 sets of hiking socks
1 fleece jacket
Warm, down jacket: This trek includes 2 cold nights of camping.
Headlamps are essential!
Waterproof gloves (Even if they are ski gloves, bring them.)
Comfortable shoes for camp
Quickdry towel. We provide small ones, but you might enjoy something a little larger.
Small bottle of soap: We provide warm water each day, but you may feel cleaner if you use soap.
Battery Charger: There is no place to plug in while trekking!
Large plastic bags are useful for organizination and seperating your dirty clothes from the clean ones.
Sleeping bag: We recommend down bags for at least -10°C.
Toiletries
Face moisturizer
Handsanitizer
Wet wipes
Toothbrush and toothpaste
Toilet paper
Personal medication
First-aid kit: band-aids, moleskin, etc.
What do you need pack in  your Daypacks
Daypacks can be any size for hiking, but we always recommend bringing something on the smaller side.
We recommend carrying your passport, GREEN ISIC card (if you booked as a student), and the following in your daypack:
Water: We supply clean water at each meal, but you are responsible for your first morning of water only because we won't have time to filter water until your first lunch.
Sunhat
Woolhat
Sunscreen
Rain gear
Fleece
Camera
Handsanitizer
Toilet paper and small plastic bag for waste
Extra money for souvenirs, drinks and tips
---
---
Summary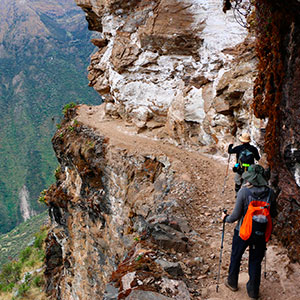 Author Rating
Brand Name
Product Name
---

We Are: Inka Trail Explorer
We are an adventure tour company; we operate treks on the Inca trail, Salkantay, Ausangate, as well as to Choquekirao and Lares. We provide adventures with authentic life, changing experiences in each of our treks. We ensure the quality of our trips, by operating our own programs in Cusco
Choquequirao Trek – Usefull Information
Short Inca Trail Trek [VIDEO]