Lares Trek + Short Inca Trail to Machu Picchu 5D/4N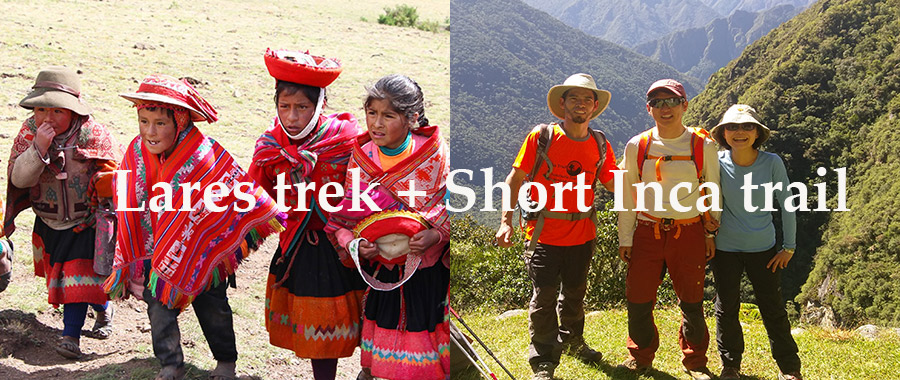 This Lares Inca Trail Trek is the best and most outstanding trail available because it also includes the Short Inca Trail to Machu Picchu. The two of these is an excellent combination of paths that allows you to experience and see just that much more of the secluded Peruvian highlands and the popular Inca Trail. More specifically, these tour includes the Inca ruins of Pisaq located in the Sacred Valley, the quieter Lares trek, the thermomedicinal hot springs, and last but definitely not least, Machu Picchu. If you are interested in experiencing the best of both worlds in 5 days, then go with Inka Trail Explorer to get off the beaten track and travel through the Andes. As we near Machu Picchu, we will hop on the Short Inca Trail until we reach the sacred ruins.
Possibly the most appetizing part of the Lares Inca trail trek portion is the opportunity to travel back in time to experience the way the earlier civilizations lived. Visiting the ancient ruins of Pisaq is without a doubt an excellent way to begin the Lares Inca Trail trek. Pisaq is one of the most important Incan monuments in the Sacred Valley. During the journey through the Lares, you will encounter the locals which will provide you with the unique chance to learn about the things they do from day-to-day directly from them. This stunning trek features blue glacial lakes, thunderous waterfalls, glittering glaciers, and of course the local wildlife such as llamas and alpacas. This portion of the trek ends at the natural volcanic hot springs which feels amazing to your tired muscles.
The highlights of the Short Inca Trail to Machu Picchu portion encompass traveling on the ancient Inca religious pathway, enjoying the amazing Inca ruins along the trail as well as the flora and fauna. You will visit Machu Picchu twice, first, by arriving through the highly-celebrated "Sun Gate" (Inti Punku), and then by enjoying the breathtaking sunset as fiery yellows and reds fade to deep blue and purple hues. Additionally, you will also be able to watch the sunrise in Machu Picchu. If you'd like, there is also the optional climb of either of the magestic mountains called Wayna Picchu and Machu Picchu.
Overview
Lares Inca Trail – Overview
Starting altitude – 9,286ft / 2,840m
Highest altitude – 15,200ft / 4,760m
Total walking distance – 21 miles / 48km
Longest walking distance – Day 2, approximately 9.31 miles / 15km
Coldest night – Day 2 around 0°C
Overall difficulty – Difficult
Itinerary
Lares Inca Trail Trek- Itinerary
Day 1: Cusco – Huaran – Cancha Cancha
At 6am, we will pick you up from your hotel and take an hour drive to Pisaq. The Inca ruins here are amongst some of the biggest in the Sacred Valley featuring gorgeous farming terraces and tombs. After our exploration, we will enjoy a grand feast for breakfast as we sit across from the Pisaq ruins. This spot not only includes the incredible views of Pisaq but also those of the massive valleys seated just below.
After this, we will drive for another hour until we reach Huaran (2,840m/9,318ft) which is located in the Sacred Valley in the Calca province. Huaran isn't only the starting point of our trek, but it's also the place where we meet with our team of horsemen before we head onto the Lares Inca Trail trek. This team is fundamental to the journey because they are in charge of transporting all camping equipment and food supplies. Once everything is settled, we will leave the Sacred Valley behind and follow a gentle trail as it ascends along a small river. Reaching our final destination of the day—Cancha Cancha (3,800m/12,477ft)—will take anywhere from 4 to 5 hours. This will be the first place we set up camp.
Day 2: Cancha Cancha – Quishuarani
After an excellent breakfast prepared by our chef, we will continue our Lares trek Inca trail trek up the valley. As we hike, we will pass by small thatched stone houses, little farms and your typical Peruvian layered landscapes. Once we arrive to the highest point called Pachacutec Pass (4,758m/15,610ft), we can stop to take a moment to enjoy the captivating beauty of the snow-capped mountain peaks of Pitusiray and the Pachacutec Lake. Once we've been filled by the mystical energies of the Andes and have allowed the sun's rays to replenish us, we will continue downhill for 2 hours until we reach our lunch spot. Then will continue downward for another hour and a half towards the valley's ample glacial lakes which are scattered with herds of alpacas, llamas, and sheep. Tonight, we will be camping close to the rustic village of Quishuarani (3,870 m/12,694ft).
Day 3: Quishuarani – Cuncani – Hot springs – Lares – Ollantaytambo
After having completed the first pass of the Lares Inca Trail trek, it will be time to go for the second mountain pass–Hillkiccasa Pass which is located a bit further up at 4,200m (13,779ft) above sea level. As we ascend, we will have the opportunity to marvel at the sights of the peaked Peruvian Andes Mountains. Here, we will be surrounded by nature in its purest form. As we make out way to the summit, surely, you will find the majestic Colquecruz and Pitusiray Mountains to be absolutely inspiring.
During most of the day, we will be hiking in the Puna or high Andes. The trail meanders through agricultural areas and natural pristine lakes. After about 5 hours, we will reach Cuncani, a small, beautiful community on the Lares Inca Trail trek. We will rest there for a moment before continuing down through a lush valley containing extensive agricultural areas with fruit-bearing trees and an excellent variety of flora and fauna. Once we finally reach the Lares hot springs (3,100m/10,170ft), we will take the time to soak in the natural volcanic springs while our chef prepares our lunches. After lunch and afternoon tea, we'll take our private van to Ollantaytambo which is where we will set up our camp for the night.
Day 4: Ollantaytambo – KM 104 – Wiñay Wayna – Machu Picchu – Aguas Calientes
Early on the following morning, we will board our train to get to the KM 104 trail head marking (2,100m/6,927ft). The climb we begin will be a pretty moderate one lasting anywhere from 3 to 4 hours. The end goals are to reach the magnificent archaeologically places of Wiñay Wayna (2,650m/8,747ft). Once there, you won't be able to help noticing how beautiful the view of the Urubamba Valley is. This Inca site is one of the most stunning and agriculturely relavent laboratories along the Lares Inca Trail trek to Machu Picchu. Excitingly enough, this is where we will join the Inca Trail. From here, it typically takes four days on the trail to reach the Machu Picchu. We will continue onward towards the Sun Gate, (2,730m/9,007ft) which will be the first place to where we'll finally get our first spectacular view of the mysterious ruins of the ruins of the Sacred City. After having enjoyed the sights, we'll head down to the Citadel of Machu Picchu to watch the sun set over the Vilcabamba mountain range. We will then take the bus down to Aguas Calientes in order for us to check into our hotel for the night.
Day 5: Aguas Calientes – Machu Picchu – Cusco
After a hearty breakfast at the hotel, we will catch the bus to the Sacred City of Machu Picchu. We will travel for about only 20 minutes through a mountainous cloud forest that resembles the jungle. Once we arrive to Machu Picchu, our professional tour guide will direct us through the energetic ruins along with its many diverse main streets with expertise and precision. After the guided tour, you will have extra time to explore the world's spiritual center of Inca wisdom on your own. This will also be the time for you to climb either the Huayna Picchu or Machu Picchu Mountain if you've booked a permit to. Following these amazing explorations, we have to catch the bus back to Aguas Calientes which will then be superceded by a train back to Cusco.
Inclusions
What's Included in the Lares Inca Trail Trek to Machu Picchu:
Airport/Hotel Pickup: Upon your arrival to the Cusco Airport, one of our representatives will be waiting for you brandishing a flag with Inka Trail Explorer logo. They will be in charge of dropping you off the your hotel. Please keep in mind that this transportation is a one-way thing, and we only include one of them.
Professional Tour Guide: Inka Trail Explorer has a staff of professional tour guides, all of whom have earned a university degree and have studied tourism and English. They are passionate about their jobs, and they are highly experienced in trekking expeditions. Our guides are incredibly knowlegable about their Peruvian history,archeology, and astronomy. With smiles plastered on their faces and twinkles in their eyes, they will happily teach you about their heritage and answer any questions that you may have.
Briefing: The night before the trek, your guide will give you all of the detailed information about your Lares Inca Trail trek to Machu Picchu. This is also when you will receive your duffel bag which should contain your personal belongings including your sleeping bag and air mattress. The bag cannot weigh more than 7kg (14lbs).
Horses: We do use horses for the Lares trek portion because they are going to be responsible for carrying all camping equipment, food supplies and your duffel bags. We also include an emergency horse in the event that you feel tired or need a break from walking.
Entrance Fees: We include all entrance fees to the Lares Inca Trail trek and to Machu Picchu itself.
Hotel: Your booking with Inka Trail Explorer includes a one night stay at a hotel in Aguas Calientes—the town just below Machu Picchu. This will be a 3-star hotel that will include private bathrooms and hot showers as well as Wi-Fi. It is expected that you share a room with at least one other person as the rooms are booked as doubles, matrimonials, triples. The option to upgrade to a single is always available, but there is a $30 USD surcharge. Your booked hotel will be listed on your confirmed invoice, but we can always upgrade your hotel if you prefer something a little fancier.
Transportation: When you travel with Inka Trail Explorer, you don't have to worry about transportation because it's all included for this trek. This includes all buses and trains, even from the moment you land at the airport. We also will pick you up from your hotel, and once the trek is over, we will also drop you back off there. Please note that our train service is Expedition Class, but it can be upgraded to the Vistadome train.
Camping Equipment: Our camping equipment is of the best quality and is incredibly comfortable. We provide 4-man tents that will be shared by 2 only people, but you may request a single tent if that is your preference. We also provide spacious dining and kitchen tents.
Food: Our amazing and experienced chefs make their magic happen over a single flame in a small tent. During the Lares and Short Inca trek to Machu Picchu, we provide all natural, fresh vegetables and properly-selected meat from the Peruvian Andes. We honor all food restrictions, but to ensure that we are adequately prepared to meet your needs, you should mention any preferences you may have as soon as you book your trek. Our traditional Peruvian and Cuscanian dishes are all served family style, and we will provide you with 4 breakfasts, 4 lunches, 4 dinners and every day in the morning your chef will give you a snack to enjoy along the trail.
Water: Starting from your first lunch until your last breakfast, Inka Trail Explorer will supply all of the water you may need. The water you receive will be coming straight from the glaciers and streams we pass by; therefore, it will be boiled, filtered and cooled before subsequently being distributed. You must, however, bring your own water bottles or Camelbaks. We highly recommend that you carry about 3 liters worth with you. At each meal, you will have the chance to refill your bottle.
What's Not Included in Lares Inca Trail Trek to Machu Picchu?
Huayna Picchu Mt: This momument stands just behind Machu Picchu; the views from the top are phenomonal. It takes 45 minutes to reach the top and another 45 minutes to hike back down becasue it is quite steep. We highly recommend climb with the second group that is scheduled at 10am because the views are so much better at this time.
Machu Picchu Mt: Machu Picchu Mountain is to the left side of the citadel. This is another great hike with gorgeous views as the reward. It does take around 3 hours to complete soif you're interested in this experience, then you need to book it well in advance so that you may start climbing around 7 or 8am.
Hot springs: We do not include the entrance fee to the hot springs, but after 2 days of hiking you do not want to miss out on this opportunity. A soak in these thermomedicinal waters costs just S/10 soles.
Sleeping Bag: You really need a sleeping bag when you choose this trek. Our first campsite is above 3,800m (12,018ft) which can get very cold. We highly recommend that you bring a sleeping bag that can withstand -10°C. If you do not have one, you can rent one from us.
Inflatable Air Matt: This is optional, but it does help in getting a good night's sleep. If you have your own, we suggest you bring it with you, and if you'd like you may rent one from us.
Walking Poles: There are definitely highly recommended because they help you keep your balance, especially on the steep declines we hike. If you decide to bring your own, they must have rubber tips. If you would like some professional aluminous walking poles, they can also be rented from us.
Lunch: We do not include lunch on the last day after your visit to Machu Picchu, but before you take the train back to Ollantaytambo, we will have time to stop in Aguas Calientes where there are many places for you to enjoy a lunch. If you'd like, we can recommend you to some of the best restaurants.
Prices
Lares Inca Trail Trek to Machu Picchu – Prices
Inka Trail Explorer warmly welcomes you to join us on this amazing trek combination to Machu Picchu. Our ultimate goal is to make this trip an amazing and unforgettable experience for you. We can set departure treks during any day of the week from March to January. These private tour services are priced by party size and are great ways to create incredible memories with your friends and/or loved ones.
2 Hikers: $655 USD per person
3 Hikers: $630 USD per person
4 Hikers: $605 USD per person
5 Hikers: $580 USD per person
6 Hikers: $555 USD per person
7 Hikers: $530 USD per person
8 or more Trekkers: $505 USD per person
Discounts
Student Discount: $20 USD (Requires ISIC Card to qualify)
Student Discounts apply to anyone who has a valid GREEN ISIC card at the time of the trek or is 16 years old or younger. For those using an ISIC card to receive the discount, we need to see a copy of the card at booking. For those booking children 16 years old or younger, we need a copy of their passport at booking time. Please send all to info@inkatrailexplorer.com
Optional Extras
Optional Rentals for the Lares Inca trail trek
Sleeping Bag: $25 USD
Walking Poles: $8 USD each
Inflatable Mattress: $25 USD
Single Tent Supplement: $30 USD
Optional Upgrades for the Lares Inca trail trek
Vistadome train: (One-Way): $65 USD per person
Casa Adina Hotel: $55 USD per person if sharing ($110 for a single)
El Mapi Hotel: + $65 USD per person if sharing (+$170 for a single)
Packing List
Lares Inca trail  trek– Packing List
Essentials
Passport
Valid, GREEN ISIC card (if you booked as a student)
Immigration Card (given to you on the plane as you entered Peru)
Good daypack (the smaller, the better)
Water storage: Water reservoir like Camelbaks are encouraged, but the most important thing is that you are able to carry at least 2-3 liters.
Comfortable hiking boots (lightweight with good soles)
What Do I Need to Pack in My Duffle Bag?
Remember you are packing for 4 nights of camping. Horses and porters will carry up to 8 kg of your personal items, but this must include your sleeping bag and air matt (if you bring/rent one). If you get both of these items from us, they will weigh a total of 3.5 kg.
4 wicking t-shirts
2 hiking pants
4 sets of undergarments.
4 sets of hiking socks
2 Fleece jackets
1 Warm, down jacket: this trek includes 2 cold nights camping
1 wool hat
Headlamp: essential
Waterproof gloves (even if they are ski gloves, take them)
Comfortable shoes for camp
Walking boots
Quickdry towel – We provide small ones, but you might enjoy something a little larger.
Small bottle of soap – We do provide warm water each day to clean with, but you may feel a bit cleaner if you use soap as well.
Battery Charger
Large plastic bags to help organize and keep the clean clothes from the dirty ones.
Sleeping bag – We highly suggest that you bring one that is suitable for at least -10°C.
Toiletries:
1 Rain jacket and pants
Face moisturizer
Handsanitizer
Wet wipes
Toothbrush and toothpaste
Toilet paper
Personal medication
First-aid kit: band-aids, moleskin, etc.
What Kinds of Things Should I Carry in my Daypack?
We do highly recommend bringing your own daypack. While it can be any size for hiking, bags larger than 25L will not be permitted inside the gates Machu Picchu. There is storage space avaialable outside of the gates if you do have a bag larger than the permitted size.
Inside of your daypack, we recommend that you carry your original passport, GREEN ISIC card (if you booked as a student), Immigration Card (given on the plane as you enter Peru), and a form of water storage like Camelbaks are encouraged (just make sure it can carry at least 2-3 liters).
Water: we supply clean water at each meal. You are only responsible for your first morning of water because we won't have time to filter water until your first lunch.
 Sunscreen
Bug spray
Sunhat
Rain gear
Fleece
Camera
Hand sanitizer
Toilet paper and small plastic bag for waste
Personal medication
Extra money for souvenirs, drinks & tips
Book Now
How Do I Book the Lares Inca Trail Trek?
It's always better contact us directly and confirm with our team before your booking. Once you are ready, please fill in our Booking Form and pay the Deposit of $200 USD per person. Our office will email you back that same day with your confirmation. We always send out confirmations, so if you don't hear from us, check your spam folder or contact our office and we will resend it to you.
We are so excited to hit the trail with you, and Inka Explorer Trail sincerely thanks you for trusting us to make this the best possible experience for you.
---

We Are: Juan de Dios Aedo
Short Inca Trail Trek [VIDEO]