Sacred Valley Tour & Inca Trail Cusco 5D/4N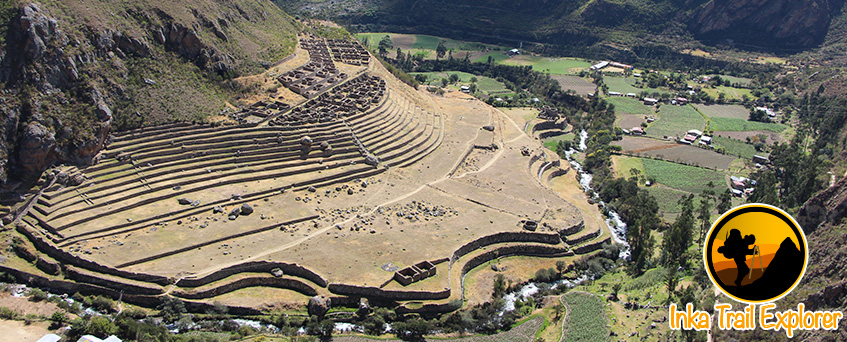 It is a nice combination tour, sacred valley with trekking on the Inca trail, it is really enjoyable. This tour is organized for people who want to experience cultural tours and adventure. We take you on the sacred valley tour, an exotic place with many Inca ruins, and beautiful craft centers, where you will have the chance to interact with the local artisans and enjoy their amazing manufacturing. After the tour in the sacred valley you are ready to start the adventure on Inca trail with a lot fun and unforgettable experience.
Overview
Sacred Valley + Inca Trail Over View
Sacred Valley tour – Cultural tour
Trek Starting altitude – 8476ft. / 2600
Highest altitude on the trek– 13,780ft. / 4215m
Walking distance – 26miles / 42km
Longest day – Day 2, approximately 10.9 miles / 16km
Coldest night on the trek  – Day 2 around 0° Celsius
Overall difficulty on the trek– Dificulte
Itinerary
Sacred Valley + Inca Trail Itinerary
Day 1: Cusco – Sacred Valley
We are going to pick you up from your hotel at 8:00am and we will drive our van toward the Sacred Valley of the Incas, on the way we have many craft centers, so, we love to take people there and show all the amazing handmade staff. Pisaq amazing Inca monument with temples, astronomical observatories, large farming terraces and the magnificent Inca cemetery with more than 2000 tombs, afterward we are going to head back to the Pisaq colorful market, where you will have time to interact with the local craftsmen, or to purchase their hand-made souvenirs.
Afterward we will continue to the Urubamba a lovely place to enjoy a buffet lunch. Then we will visit Ollantaytambo, attractive Inca living museum with remarkable channels and stone streets, in its high part one rises to an impressive ceremonial center of cult to the water and a fortress that guarded the access to the inferior part of the valley. Ollantaytambo was a strategic Military, Agriculture, and Religious place to manage and control de Sacred Valley of the Incas. Afterwards we will head straight to our hotel located in the same town and rest for the next day adventure.
Day 2: Ollantaytambo – Piscacucho – Ayapata
We will pick you up from your hotel at scheduled time, and we will take you in our private minivan to km 82. Starting point of the trail, we will travel still through the beautiful Sacred Valley of the Incas. The first day hike is relatively easy going to help you settle in to the trek. Covering 14km of the trail up the Miskay and Cusichaca valley, on the way we get to pass by amazing Inca ruins and great views of mountains, many spices of plants. Our campsite for the night is at Ayapata 3,350m/1,0850ft it is further along the trail than most groups go. As we are going farther up for camping the next day´s hike up to the pass will be shorter for us and you can enjoy the peace and tranquility with fewer tourists.
Day 3: Ayapata – Chaquicocha
Today is a big day for us, we have two passes to cross in one day, after a great breakfast we will star this adventure with the long 3 hours all uphill, but we will be hiking into the native forest, which makes more enjoyable until we get the summit – dead woman pass 4,200m/13,768ft the highest point of the Inca trail. On reaching the pass we'll stop for a short break to enjoy the scenery, afterward we will descend for two hours dawn the side of the valley to our lunch spot. After lunch we begin ascending again to the second pass of the trek. It is 2 hours to the summit and on the half way up we do a little stop at a small Inca site (Runcu Raqay. After the second pass, it´s another hour downhill hike to rich the amazing Inca site SAyacmarca. We´ll stop here for a rest and have a quick tour, for sure we will amazed with the beautiful Sun Set over the Vilcabamba mountain range. From here our second campsite is 25m away (Chaquicocha 3,600m/11,736ft. After dinner, if you are interested in the magnificent southern hemisphere sky, we can do some star gazing and we´ll point out the fascinating Inca constellations.
Day 4: Chaquicocha – Wiñaywayna
After survived dead woman pass, runkuraqay pass and beginning day 4 certainly we deserve a pat on the back! We begin early again on the most beautiful path from the whole trail. The first two hour of the hike is what we usually call Inca flat (gradual inclines) the trail goes into a jungle area, knew as a Cloud Forest. As we are walking we enjoy the majesty of Salkantay the tallest snowcapped mountain from this area and fantastic stunning view of the Vilcabamba mountain range.
On the last section of the Inca flats we begin to make our way up to the last peak at Phuyupatamarca 3,650m/11,899ft from here you will have spectacular views overlooking the Urubamba River, if we are lucky with the weather we will get our first views of Machu Picchu Mountain. From Phuyupatamarca we start descending on steep steps to our last campsite, this is the last stretch of today where we will find more buildings and beautiful farming terraces.
After we reach the camp and after lunch we will visit our last Inca ruins called Wiñay WAyna (forever young) is the most spectacular Inca site on the trail, for sure after Machu Picchu.
We like spoil our guest as we enjoy our last feast with the porters and chefs. It is a tradition to organize a ceremony in the evening to thank them for the amazing job done
DAY 5: WIÑAYWAYNA – MACHUPICCHU – CUSCO
On the last day you will wake up early, at 03:30 in the morning. After breakfast, we will quickly go to the last check point of the Inca trail, and pass the control gate to start our hike for 1hour to Sun Gate, from this place you will have your first dramatic view of Machu.
It was just a legend for long time, until 1911 when the American explorer Hiram Bingham rediscovered it only after many expeditions in the area. Machu Picchu rises to a height of 2430masl – 7972ft, in the middle of a tropical forest with extraordinary mountains around. It was without any doubt one of the most amazing hand works on 15th century.
Its massive buildings, terraces and temples are a masterpiece. We will have a guided tour for about two hours; we will visit the most impressive temples, and palaces from city, after you will have extra time to explore by yourself on your own taste and preference. Then you will catch the bus down to Aguas Calientes town, and then you will cash the train to Ollantaytambo, then bus back to Cusco. At the schedule time, your transfer will be waiting at the train station, to transfer to your hotel.
Additional options: If your legs, lungs and energy still hold up after our four days of hiking, it may be possible to climb the peak of Huayna Picchu, 2,700m/8,858ft behind the main site. However, a special permit is required and it is issued in limited quantities. So if you are interested book at the same time with Inca Trail, other way you may in hike to the Inca Bridge.
Inclusions
Sacred Valley + Inca Trail Inclusions
Airport/Hotel:
Professional tour guide: We have a staff of professional tour guides with many years of experience, all of them with University degree, they studied tourism and English. They all are highly passionate in our history, archeology, astronomy and many others. They always will be happy teaching you about their heritage.
Briefing: The night before the trek, your guide will give you all detailed information about your trek schedule, an also you will get your duffel bag, which is to fix your personal belongings no more than 7kg/14lbs you have to include your sleeping bag and air matt in case you have or rented.
Porter: Depending on the number of the hikers in the group is the amount of porters; these guys are in charge to transport all the camping equipment, food supplies and your personal duffel bag. We include the extra porter for your personal items 7kls/14pounds.
Transportation: From the beginning of your trek to the end of your trek the transportations are included. The following transportations are included on this package, for the Sacred valley tour, the transportation the trail head, bus from Machu Picchu to Aguas Calientes, train to Ollantaytambo and the transfer from the train station to Cusco – hotel. Our train service is expedition class it can be upgraded to the Vistadome train.
Camping Equipment: Our camping equipment is from the best quality and very comfortable, each Tent will be shared by 2 people, except if you request for a single tent, we provide spacious dining tent and kitchen tent.
Entrance fees: We include all the entrance fees on this package, we cover the entrance fees to the sacred valley tour, the entrance fees to the Inca trail trek, and the entrance fees to Machu Picchu.
Hotel: We include 1 night hotel in Ollantaytambo the night before we start the trek. We include 3 stars Hotel; your booked hotel will be listed on your confirmed invoice. Upgrades are always possible.
This is a 3 star hotel and is based on sharing a room – either double, matrimonial or triple. There is a single room surcharge if you are booking alone of $30 US per person. Rooms all include private bathrooms with hot showers and wifi. We can also upgrade your hotel if you prefer something a little fancier. In Optional Extras is a list of possible upgrade options, but we can work with most hotels in Ollantaytambo.
Food: We include on the trek 3 Breakfasts, 3 Lunches, Dinners and every day in the morning our chef will provide us a snack to enjoy while you are hiking. Our experienced chefs, they prepare all the meals and they make magic happens during the trek in a small tent over a single flame.
Always taking care of our customer's health we provide all natural and fresh vegetables and selected meat proper from the Peruvian Andes. We honor all food restrictions, but you should mention as soon as you are booking your trek. Food is served family style and you will enjoy our traditional dishes from Peru and Cusco.
Water: Beginning from your first lunch until your last breakfast, Inka Trail Explorer will supply all the water you need. The water you will get from us is straight from the glaciers and streams, it will be boiled, filtered and cooled before it will be distributed. You must bring your own water bottles or camel back. Highly recommended carrying about 3L wort, you have the chance to refill your bottle every day at each meal.
Not Included
Sleeping Bag: You really need a sleeping bag when you choose the camping option. Most of our campsites are above 3,500m/11,390ft it can be cold. We highly recommend bring a Sleeping bag for -10C (it can be rented from us).
Air Matt: It is optional but it helps in getting a good sleep, if you have one we highly recommend bring with you. (It also can be rented from us).
Walking Poles: Highly recommended. It helps to keep your valance especially when you go steep downhills and it must have a rubber tip when bring your own, if you do not have (it can rented from us).
Huaynapicchu: This amazing mountain stands behind Machu Picchu; the views from the top are spectaculars. It takes 45 minutes to reach the top and 45 minutes back down, it is quite steep. If you are interested to experience this adventure you need to book in advance, and also we highly recommend climb in the second group which is at 10am and so much better views.
Breakfast: From the first day is not included, most of the hotels include breakfast, we assume that you will get there before we start our Sacred Valley tour.
Lunch: Lunch from the sacred Valley tour and lunch from the trek on the last day, they are not included
Dinner: Dinner from the sacred valley tour and dinner from the trek on the last day, they are not included.
Price
Sacred Valley + Inca Trail Price
Inka Trail Explorer warmly welcomes to you, and we really want to make the best experience for you. Our train tours can leave any days of the week, 12 months a year. As long as we have two people minimum, we would love to take you on our tour to one of the Wonders of the World.
Private Tour Service priced by party size
Do you want to visit Machu Picchu? Come with  your friends or loved ones and enjoy your vacation choosing our private tours. Our private tours can start with any size and we will do all our best to make a lifetime experience for you.
1 person   US$415 per person
2 people   US$395 per person
3 people   US$375 per person
4 people   US$355 per person
5+ people US$3305per person
Discounts:
Student Discount: US$20 (Requires ISIC Card to qualify) Student Discounts apply to anyone who has a valid GREEN ISIC card at the time of the trek or is 16 years old or younger. For those using an ISIC card to receive the discount, we do need to see a copy of the card at booking. For those booking children 16 years old or younger, we need a copy of their passport at booking time. Please send all to info@inkatrailexplorer.com
Optional Extras
Sacred Valley + Inca Trail Optional Extras
Optional Rentals
Sleeping Bag US$25
Walking Pole US$8
Inflatable Mattress US$25
Single Tent Supplement US$30
Optional Upgrades
Huynapicchu: $65 per person
Vistadome train (One Way): $65 per person
Packing List
Sacred Valley + Inca Trail Packing List
Essencials
Passport
Valid, GREEN ISIC card (if you booked as a student)
Immigration Card (given on the plane as you enter Peru)
Good daypack and small
Water storage: Water reservoir like Camelbaks highly recommended – but enough for at least 2-3 liters.
Comfortable hiking boots with ankle support
In your Dafle Bag
Remember you are packing for 3 nights of camping . Our Porters are going to carry up to 8 kg of your personal items. This must include your sleeping bag and air matt (if you bring/rented one). From us these two items weigh 3.5 kg.
3 wicking t-shirts
2 hiking pants
4 sets of undergarments
3 sets of hiking socks
1 Fleece
Warm, down jacket: this trek includes 2 cold nights camping
Headlamp: essential
Waterproof gloves
Comfortable shoes for camp
Quickdry towel. We provide small ones, you might enjoy something a little larger.
Small bottle of soap: we provide warm water each day to clean
Battery Charger: There are some places to plug in at the camping areas
Large plastic bags: to help organize and keep clean from dirty.
Sleeping bag: Recommend down bags for -10C at least
Toiletries
Face moisturizer
Handsanitizer
Wet wipes
Toothbrush and paste
Toiletpaper
In your Daypack
Daypacks can be any size for hiking, but we always recommend  small one. Inside Machu Picchu, no bag larger than 25L will be allowed in. If larger, you will need to store outside citadel gates.
Water: we supply clean water at each meal. You are responsible for your first morning of water only as we won't have time to filter water until your first lunch.
Bug spray
Sunscreen
Sunhat
Woolhat
Rain gear
Fleece
Camera
Handsanitizer
First aid kit: band aids, moleskin, etc.
Toilet paper and small plastic bag for waste
Extra Money for Souvenirs, Drinks & Tips
Booking
Sacred Valley + Inca Trail Booking
How to book
It's always better contact us directly and confirm with our team before your booking. Once you are ready, please fill in our Booking Form and pay the Deposit of $200 US per person. Our office will email you back that day with your confirmation. We always send out confirmations, so if you don't hear from us, check your spam or contact our office and we will resend.
We are so excited to take you on the Trail and thank you for your trust in us.
Summary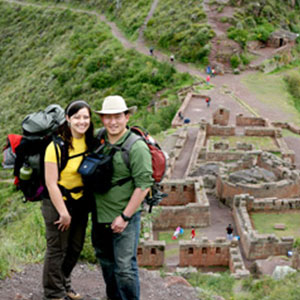 Author Rating
Brand Name
Product Name
Sacred Valley Tour & Inca Trail Cusco 5D/4N
---

We Are: Inka Trail Explorer
We are an adventure tour company; we operate treks on the Inca trail, Salkantay, Ausangate, as well as to Choquekirao and Lares. We provide adventures with authentic life, changing experiences in each of our treks. We ensure the quality of our trips, by operating our own programs in Cusco
Short Inca Trail Trek [VIDEO]