Choquequirao Trek to Machu Picchu 9 Days
If you can imagine yourself walking amongst the snow-capped Andean mountains and the faces of your companions glowing in the light of the campfire while you listen to the traditional sounds of Peru, then the Choquequirao trek located in Peru is your ideal route to the city of Machu Picchu. While the trekking itself is demanding, it is also absolutely breathtaking. The endless panoramic views of the mountains and the tranquility of the seldom-traveled path combined with the amazing food and campsites of the homesteads of local Andean mountain families make this trek one of the most authentic and unforgettable journeys available to travelers.
Additionally, Choquequirao trek offers all kinds of different visual experiences ranging from mountains that stand at great heights down to the humid jungle areas which are rich with natural and cultural beauty. During the trip from Cusco to the little rustic town of Cachora, you will catch several glimpses of the lush Apurimac canyon and many rural farmtowns. The canyon is adorned with the roaring Apurimac river which travels past Cusco in narrow gorges reaching depths up to 3,000 meters (9,800 ft). That is twice that of the Grand Canyon. The strength and length of the river is so great that out of all of the attempts to travel the full length of the Apurimac, only two have ever been successful.
Choquequirao is three times the size of the ruins in Machu Picchu, and archaeologists have freed only 30% of it from the jungle. Located at a height of 3,100 meters (10,180 ft) just outside Cachora, these ruins were built amongst some of the most amazing sceneries in the rising altitudes. Choquequirao was declared as the best tourist destination for 2017/2018 by National Geographic and Lonely Planet. The incredible amount of beautiful Inca sites curiously linked by stunning stone pathways create a perfect harmony with nature amid the towering mountains and astonishing valleys. Traveling to these ruins offers a variety of microclimates that all make the Choquequirao tour an unique adventure, and due to the level of the trekking difficulty, not very many tourists dare to visit them.
The Choquequirao trek to Machu Picchu all inclussive packages does include horses from Cachora that will carry all of your gear as well as an emergency one with a saddle in case of sickness or injury. Our guides are very good-natured and are experts in Inca history and Peruvian culture. They will ensure that not only will this experience be fun and adventurous, but it will also be incredibly educational. Our fantastic cooks are always wearing smiles as they prepare magical meals in backcountry conditions. What's more is that they can even bake a real cake with decorations!
Book now and get 10% off!
Overview
Choquequirao Trek – Overview
Starting altitude – 9,515ft / 2,900m
Highest altitude – 15,200ft / 4,645m
Trek distance – 62 miles / 100km
Longest day – Day 6th, approximately 13.63 miles / 21km
Coldest night – Day 5th around 5° Celsius
Overall difficulty – Very difficult, good for people with a high level of fitness
Tour style – Trekking with camping, history, culture, flora and fauna
Highlights – Stay away from the crowd while you are trekking and visiting Choquequirao
Itinerary
Choquequirao trek – Itinerary
DAY 1: Cusco – Cachora – Chikisqa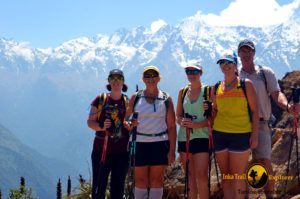 First, we will need to meet up with our chefs and our muleteers at the trailhead. Then, our adventure begins with a great view of Choquequirao, located on the other side of the valley. From here, the path works its way down into the Apurimac Canyon which exhibits fantastic views of snow-capped peak, and eventually, the Apurimac valley spreads out in front us as we continue hiking throughout the day. Although the trekking to Choquequirao, is said to be one of the hardest in Peru, during the first day the path is all downhill. It takes about 3 to 4 hours to reach our first campsite in Chikisqa. This is one of the quietest places to camp on the Choquequirao trail to Machu Picchu which makes it one of the best locations to enjoy the awe-inspiring scenery without distractions.
DAY 2: Santa Rosa – Choquequirao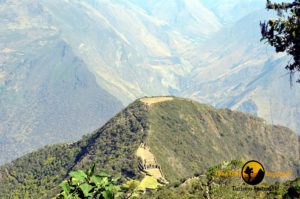 This is probably the hardest day of the Choquequirao Trek. To reach the Choquequirao ruins, we need to make our way up to the opposite side of the Apurimac Valley, which involves ascending about 650m/2,124ft over a distance of 10km/5.8 miles through hot and humid conditions. Finally, we will pass by Santa Rosa and Marampata which are small rural towns along the Choquequirao trail.
It's quite tough going, but the views we see are mixed with a wide variety of wildlife and vegetation. Throughout the day, we will see various of bromeliads, orchids and stands of bamboo. Additionally, we'll see birds such as eagles, falcons, toucans and different types of humming birds that our guides are excellent at spotting. Finally, after about 6 hours of hiking, we'll reach our campsite close to Choquequirao at an elevation of 3,050m (10,005ft). If the weather is nice, we will be able to have a clear view of the amazing sunset. Furthermore, we may be lucky enough to spot condors also known as "the Lord of the Andes"—the mountain range's largest bird—soaring over the valley down below.
DAY 3: Choquequirao – Pinchaunuyou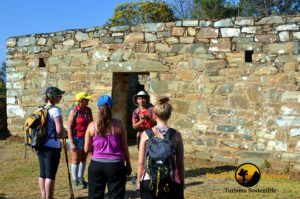 After an early breakfast, you will be prepared for an exciting day at the Choquequirao ruins.. It takes 30 minutes to get there, and then we will begin the tour with a comprehensive history lesson about the site. Susprisingly, the ruins of Choquequirao is considered to be bigger than those in Machu Picchu. This is because the majority of them remain either underground or hidden in the forest and have yet to be excavated. The most relevant parts of this site are the temples, astronomical observatories, and water channels.
After touring all morning, we will have lunch while enjoying the best view of the Choquequirao ruins. Following lunch, we'll be ready to continue our 9-day Choquequirao trek heading to the pass (3,600 MASL), just above the city. Once we finally reach the summit, we will spend a few minutes walking down in order cross to the other side of the mountain, but when we finally do, a breathtaking valley will be revealed. During our descent, we might spot condors, bears, and deer. Our campsite during this night is on the beautiful Inca terraces of Pinchaunoyoc (2,487m/8,160ft).
Day 4: Pinchaunuyoc – Maizal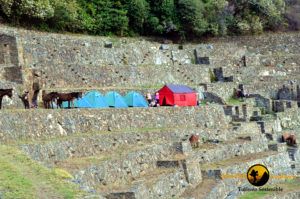 From our campsite, we'll carry on down into the valley until we reach the river below. In the dry season, the river is small and calm, so it is a perfect place to stop and have a refreshing dip so as to relax your tired muscles. After our swim, we'll make our way back up on the opposite side of the valley, heading for our campsite in Maizal (2,891m/9,481ft).
During the day, we will see a wide variety of native plants and birds which will also be accompanied by stunning views of the lush, green Rio Blanco valley. After reaching our campsite, if we have the time and some remaining energy, we may visit a nearby Inca site.
Day 5: Maizal – Yanama
In the morning, you will enjoy a nutritious breakfast while witnessing the magical sunrise over the mountains. We'll start the day's activities by trekking all uphill for 3 to 4 hours on the rocky path; however, the difficulty of the trail will be balanced out by fantastic views of the surrounding areas complete with lush vegetation, green valleys, and also some arid mountain peaks. Once we reach the summit (4,150m/13,700ft), the views are even more amazing: snow-capped peaks, deep valleys, and here, we have the greatest possibility to see condors.
Afterwards, we hike downhill for about 2 hours until we arrive at our campsite of Yanama. This is a small indigenous village surrounded by snow-capped mountains where the people are very welcoming. It would be a fun and educational experience to visit some families to learn about their culture, and more especially, their day-to-day activities.
Day 6: Yanama – Collpa Pampa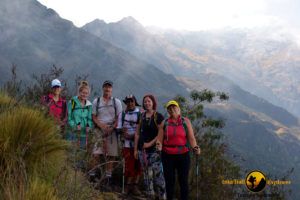 During the first 4 days of the trek to Machu Picchu, we will have been trekking through mostly low lush valleys and hot temperatures. However, now the landscape will change dramatically, and as a result, we will see less vegetation that will consist primarily of shrubs and grass. Moreover, the air will be thinner and the temperatures will be cooler.
This day is most definitely the longest and most challenging day because we have to reach the highest pass of the whole 9-day Choquequirao trek. We'll leave Yanama early in the morning, and walking along a gentle path through a grassy valley, we'll make our way up to the Mariano Llamoja pass (4,645m/15,088ft).
Once we reach the summit, we will be able to take in the most amazing features of the tallest and most outstanding peaks of Choquequirao trail: the mighty mountains of Salkantay and Pumasillo which are colloquially called the protectors of the citadel of Machu Picchu. From here, the trail is mainly downhill, and we go back down to the warmer climates and lush forest. Our path will eventually join with the Salkantay trail in Collpapampa (2,900m/9,515ft), and at the end of the day while we set up camp, we may see other campers that are doing the Salkantay trek.
Day 7: Collpapampa – Lugmabamba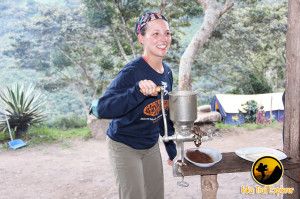 Our destination today is Lugmabamba which is located about 13km down the valley in the jungle area. Our route goes along the Lluscamayo River bank through an area teeming with life. As you hike today, you will be amazed by the diversity of vegetation like flowers, orchids, coffee plants, avocado trees, passion fruit (Granadilla), and many others from the jungle area. Ultimately, it will be an easy and enjoyable day until we reach our camp.
We'll only hike until lunch, after which we have a coffee tour where you will learn how to get the best aromatic coffee without using any chemical additives. This is all included in the Choquequirao Trek to Machu Picchu at no extra costs.
Finally, it'll be time to relax and enjoy the free afternoon. In our opinion, the best way to do so would be at the hot springs in Santa Teresa. These wonderful waters are only 1 hour away from our campsite by car. If you are interested in going there, please inform your guide in advance so he can organize it for you.
Day 8: Lugmabamba – Llactapata – Aguas Calientes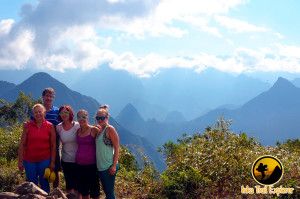 Today will be another big day for us because we have yet nother mountain to climb. It, however, will be nothing compared to what we will have accomplished thus far. It'll be especially challenging along the final stretch to get to the summit, but in the end it will be worth it. First, we will immerse ourselves in the jungle area until we find a specific original, well-preserved Inca trail. This trail leads up the mountain to the outstanding Inca ruins of Llaqtapata that overlook Machu Picchu.
There, we will have the amazing view of Machu Picchu being seated on the rocky crest between Machu Picchu Mountain and Huayna Picchu Mountain. After a riveting history lesson, we'll head down the mountainside to the hydroelectric station where we will eat lunch and say goodbye to our amazing team who made the Choquequirao trek possible. From here, we will then catch our train to Aguas Calientes.
Day 9: Machu Picchu – Cusco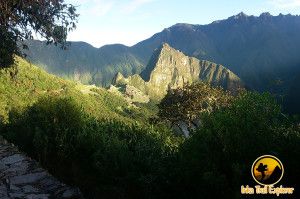 Following an early breakfast at the hotel, we will board the bus up the switchback road to the ancient city of the Incas. After hiking and camping in the mountains for 8 days, you will surely be excited to visit Machu Picchu—one of the 7 Wonders of the Modern World.
The sacred ruins in the citadel of Machu Picchu are mind-blowing in every way imaginable. Although the city was discovered over a hundred years ago, archaeologists are still mystified about the purpose of the site. Our tour guides play an intergral role in this experience because learning about the history and the uses of the temples and palaces only adds to the awe of the city.
Crossing mountains, rivers, and after surviving the extremely cold and hot temperatures, we finally will arrive in Machu Picchu. This amazing place is a stunning example of world architecture, which was built in the 15th century by Pachacutec Inca, the greatest emperor in the Americas.
We start the tour of Machu Picchu by visiting the most important buildings of this city with a professional tour guide, who is going to help us to properly explore and better understand the mystery of this sacred place. After 2 to 3 hours, you will have extra time to explore the ruins on your own. If you have booked a permit to climb Huayna Picchu or Machu Picchu Mountain, this will be the time that you do so.
The train from Aguas Calientes to Ollantaytambo will be in the afternoon which will be followed a bus that will take you back to Cusco.
Inclusions
All inclusive package Choquequirao Trek to Machu Picchu
Airport/hotel: We include the transfer from the airport to your hotel. Upon your arrival to the airport in Cusco, Peru, one of our representatives will be waiting for you holding a flag with our logo. We simply need to know your flight arrival time beforehand.
Briefing: The night before the Choquequirao trail, your guide will give you detailed information about your trek schedule. This is a pre-trek preparation where you will get some tips for the Choquequirao hike. Also, you will receive your duffel bag for your personal items. The bag may weigh no more than 14kg/28lbs which must include your sleeping bag and air mattress. If you do not have a sleeping bag or air mattress, they can be rented from us.
Professional Tour Guide: We have a staff of professional tour guides with many years of experience leading groups of hikers on the 9-day Choquequirao trek. All of them have studied tourism and English at university. They are all passionate about history, archeology, and also astronomy. They will always be happy to teach you about their heritage and to answer any questions you might have.
Transportation: All transportation—the bus from Cusco city to the trail head, the bus up to Machu Picchu and the train on the last day—is included from the beginning to the end of your trek.  The only exception is transportation to the hot springs on Day 7. Our train service is Expedition Class, although it can be upgraded to the Vistadome train.
Horses: For this trek do use horses in order to transport all our camping equipment, food supplies, and your duffel bags. We also include an emergency horse for all of our groups on the trek to Choquequirao for if you begin to feel tired or if you need a break.
Camping Equipment: Our camping equipment is of the best quality and is very comfortable. We provide a 4-person tent for 2 people, unless you request to tent individually, in which case you will receive a 2-person tent. Additionally, we provide a spacious dining tent and kitchen tent for the group.
Hotel: Our trek to Choquequirao includes a hotel stay for 1 night in Aguas Calientes—the town below Machu Picchu. We include 3-star hotels; your booked hotel will be listed on your confirmation invoice. This 2-star hotel assumes room-sharing – either double, matrimonial or triple. There is a single-room surcharge of $30 USD per person if you request to book alone. Rooms all include private bathrooms with hot showers and Wi-Fi. We can also upgrade your hotel if you prefer something a little fancier.
Entrance Fee: Inka Trail Explorer includes the entrance fee to the trail, the entrance fee to Choquequirao, and the entrance fee to either Machu Picchu or Wayna Picchu, depending on availability.
Wayna (Huayna) Picchu Mt: This mountain stands behind the Inca citadel; the views from the top are spectacular. It takes 45 minutes to reach the top and 45 minutes back down. The trail is quite steep. If you are interested in experiencing this adventure, you need to book it in advance. We also highly recommend climbing with the second group, which is at 10am because this time slot typically has much better views.
Machu Picchu Mt: Another beautiful hike with great views, the Machu Picchu mountain trail takes 3 hours round-trip. If you are interested in this escapade, you will need to book it in advance. You must start climbing between 7am and 8am.
Food: We provide all natural, fresh vegetables and carefully-selected meat straight from the Peruvian Andes. We honor all food restrictions, but you should inform us as soon as you book your trek. The food you will enjoy are our traditional dishes from Peru and Cusco and is served family-style. This trek includes 9 breakfasts, 8 lunches, 8 dinners and every day in the morning, your chef will provide you with a snack to enjoy along the trail.
Water: Beginning from your first lunch until your last breakfast, Inka Trail Explorer will supply all the water you need. The water you will get from us on the trek to Choquequirao is straight from the glaciers and streams. It will be boiled, filtered and cooled before being distributed. You must bring your own water bottles or Camelbaks. We highly recommend carrying about 3L worth with you. You will have the chance to refill your bottle every day at each meal.
Sleeping Bag: You really need a sleeping bag when you choose the camping option. Three of our campsites are above (3,500m /11,390ft), and therefore, will be cold. We highly recommend bringing a sleeping bag for -10°C. (One can be rented from us.)
Hot springs: On Day 7 of our trek to Choquequirao, we will take you in a minivan to some natural hot springs. Honestly, after many days of trekking in the mountains, you will not want to miss out on the opportunity to soothe your aching muscles in these healing natural waters. The only costs is the entrance fee for the springs which should not be more than $5 USD per person.
What is not included on the 9 day trek to Choquequirao?
Inflatable Air Mattress: It is optional, but it helps in getting a good night's sleep (available for rent). If you have your own, we highly recommend bringing it with you on the trek to Choquequirao.
Walking Poles: They're highly recommended. They help to keep your balance, especially when going down steep hills. Hiking poles must have a rubber tip if you're bringing your own. If you do not have a pair, they can rented from us.
Hot springs: On Day 7 of our trek to Choquequirao, you have the option to visit some natural hot springs. Honestly, after many days of trekking in the mountains, you will not want to miss out on the opportunity to soothe your aching muscles in these healing natural waters. The only costs are the transportation fee and the entrance fee for the springs which should not be more than $20 USD per person.
Lunch: We do not include lunch on the last day, but after your tour at Machu Picchu, you'll get to stop in Aguas Calientes where you can find a wide selection of good restaurants and enjoy lunch before you take your train back to Cusco.
Prices
Choquequirao 9-Day Trek- Prices
We warmly welcome you to join us on the Choquequirao trek to Machu Picchu. We are eager to make this one of your most unforgettable lifetime experiences. Our treks can begin on any day of the week and during any month of the year.
*Group Service Price: $1,050 USD Per Person*
A group service means that other hikers are able to join you. Your group will have varying hiking and fitness abilities. Our Professional Tour Guides are experts on how to keep the group moving and happy no matter how fast you go. We just need 2 hikers to start this adventure.
*The Private Tour Service is also available and is priced by party size.*
Choquequirao trek is a breathtaking journey full of magical natural wonders that will undoubtably never be forgotten. The only way to make these days even more special is to share this experience with your loved ones. This option is also highly recommended for families with children or for people who don't have much hiking experience because you can set your own pace without having to worry about waiting for the others or trying to keep up with them. Our private tours can start at any size, and the Inka Trail Explorer staff and I will all do our best to make this a positive and life-altering adventure.
2 Hikers $1,250 USD per person
3 Hikers <$1,180 USD per person
4 Hikers $1,100 USD per person
5 Hikers $1,020 USD per person
6 Hikers $960 USD per person
7+ Hikers $870 USD per person
Discounts
Student Discount: $40 USD (Requires ISIC Card to qualify)
Student Discounts apply to anyone who has a valid GREEN ISIC card at the time of the booking the Choquequirao trek to Machu Picchu or to anyone who is 16 years old or younger. For those using an ISIC card to receive the discount, we do need to see a copy of the card while the trek is being booked. For those booking children 16 years old or younger, we need a copy of their passport at booking time. Please send all to info@inkatrailexplorer.com
Optional Extras
Choquequirao trek to Machu Picchu – Optional Extras
Optional Rentals
Sleeping Bag $35 USD
Walking Pole $12 USD per each one for the whole trip
Inflatable Mattress $35 USD for the whole the trip
Single Tent Supplement $40 USD for the whole trip
Optional Upgrades
Vistadome train: (One-Way): $65 USD per person
Casa Andina Hotel: $55 USD per person if shared ($110 for a single)
El Mapi Hotel: +$65 USD per person if shared (+$170 for a single)
Additional Free Tours
If you are traveling to Peru with your family or friends and there are 2 or more people in your group, then you automatically get one of our additional tours for free. You may pick whichever one you like from the list below. Please note that we do not include the entrance fees for these, but we do include the transportation and a professional tour guide.
Do not worry single travelers! If you travel with us, you will also get special discounts on any of our additional tours.
South Valley Tour
Maras Moray Tour
Sacred Valley Tour
Packing List
Choquequirao Trek – Packing List
Essentials
Original Passport
Valid, GREEN ISIC card (if you booked as a student)
Immigration Card (given on the plane as you enter Peru)
Confortable daypack ( A small one is highly recommended)
Water storage: Water reservoir like Camelbaks are encouraged – but enough for at least 2-3 liters.
Comfortable trekking boots with ankle support
In your Duffle Bag for Choquequirao Trek
Remember you are packing for 7 nights of camping and 1 night in a hotel. Horses will carry up to 14 kg of your personal items. This must include your sleeping bag and air matt (if you decide to bring/rent one). If you rent them from us, then these two items will weigh a total of 3.5 kg.
Warm, down jacket: this trek includes 3 cold nights of camping
Headlamp: essential
Waterproof gloves (even if they are ski gloves, take them)
Comfortable shoes for camp
Quickdry towel. We provide small ones, but you might prefer something a little larger.
Soap: we provide warm water each day to clean, but it might make you feel fresher if you had a little soap.
5 wicking t-shirts
3 hiking pants
6 sets of undergarments
5 sets of hiking socks
Swimsuits
2 Fleece jackets
Battery Charger: There are some places to plug in while trekking
Large plastic bags: to help organize and keep clean clothes seperate from dirty clothes.
Sleeping bag: We recommend down bags for -10°C at least
Toiletries:
Face moisturizer
Hand sanitizer
Wet wipes
Toothbrush and toothpaste
Toiletpaper
First-aid kit: band-aids, moleskin, etc.
What do I need to pack in my Daypacks?
Daypacks can be any size for Choquequirao trek, but we always recommend bringing just a small one because once inside Machu Picchu, bags larger than 25L will not be allowed. You will need to store them outside citadel gates.
Water: We supply clean water at each meal.
Sunscreen
Bug spray
Woolhat
Sunhat
Rain gear
Fleece jacket
Camera
Hand sanitizer
Toilet paper and a small plastic bag for waste
Personal medication
Extra Money for Souvenirs, Drinks & Tips
Contact us
Choquequirao Trek  – Contact us
Booking
Choquequirao Trek  – Booking
How To Book?
It's always better contact us directly and confirm everything with our team before booking. Once you are ready, please fill in our Booking Form and pay the Deposit of $200 USD per person + the 6% Paypal Transaction fee. Once we get the deposit, we will e-mail you back with your confirmation. We always send out confirmations, so if you don't hear from us, check your spam or contact our office and we will resend them.
We at Inka Trail Explorer are so excited to take you on this adventure, and thank you for placing your trust in us.
---
---
Summary

Author Rating
Brand Name
Product Name
Choquequirao Trek to Machu Picchu, The Best 9 Day Choquequirao Hike
---

We Are: Inka Trail Explorer
We are an adventure tour company; we operate treks on the Inca trail, Salkantay, Ausangate, as well as to Choquekirao and Lares. We provide adventures with authentic life, changing experiences in each of our treks. We ensure the quality of our trips, by operating our own programs in Cusco
Choquequirao Trek – Usefull Information
Short Inca Trail Trek [VIDEO]