Ancascocha Trek to Machu Picchu 4 Days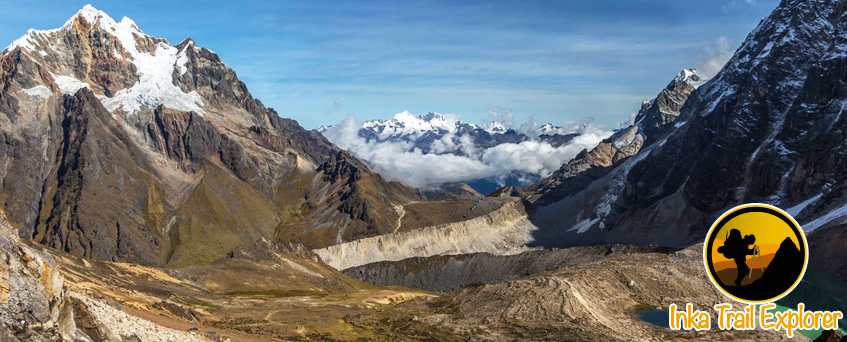 The Ancascocha Trek to Machu Picchu  is an amazing trail that remains off the beaten track even given its close proximity to the Classic Inca Trail to Machu Picchu.
The Ancascocha Trek (often considered the Super Inca Trail or even the Hidden Inca Trail), a far more strenuous, yet less traveled and more rewarding path. The Ancascocha Trek  takes 4 days wandering through traditional villages like Usutapampa and its lake names Ancascocha at 12,795 feet.
Overview
Ancascocha Trek – Overview
Starting altitude – 9186ft. / 2800m
Highest altitude – 15,322ft. / 4700m
Walking distance – 19miles / 30.5km
Coldest night – Day 2 around 0°
Overall difficulty – moderate
Crowds: Few to None
Itinerary
Ancascocha Trek – Itinerary
Day 1: Cusco – Usutacancha – Sondorf – Quewllacocha
We drive for an hour and a half from the city of Cusco until Limatambo, part of the Usutacancha community, in the quiet valley of Sondorf. Here we will meet our horsemen and horses, these guys are in charge of carrying the equipment along the route.
We gently begin to ascend the Lechería valley, along the river of the same name and across fields of crops and livestock. The road becomes steeper until you reach a narrow and damp area which gives shelter to a spectacular Queuña tree, Andean native forest.
After we pass this area, the valley opens up again and we move to Huascapampa area where our Cook will be waiting with a great lunch. After a great lunch and little siesta we continue to our camp at Quewllacocha, a quiet area on the high Andean plain.
At night the sky usually is full of stars, great to watch the Andean constellations.
5-6 hours walking, 3000-4000mt.
Day 2: Queyllacocha – Accojasa – Huayanay – Ancascocha
Today is a spectacular day and the most demanding of the entire route. We continue our ascent by the Andean highlands to cross two mountain passes, the first step of Accojasa (4700mt.) where the snowy peaks of Huayanay give us a spectacular welcoming surprise, rewarding gift after a challenging ascent.
After passing Huayanay (4600mt), second and last pass from our Ancascocha trek, we begin the descent for the rest of the walk, and arrive to the base of Mountain Huayanay. Taking advantage of this beautiful place we stop for a great lunch near the glacier of this stunning mountain.
Then we continue down into the valley of Ancascocha, with a spectacular view of Lake Ancascocha and the snowy mountains that surround this area, original traces of an ancient Inca trail, among other beautiful natural scenery. This is an area of condors and hopefully we can see some soaring. We will continue a little further to reach our camp close to Ancascocha Lake (400mt), amazing place to enjoy the peace and the tranquility of course with a great and delicious happy hour.
5-6 hours walking, 4000-4700mt.
Day 3: Ancascocha – Chillca – Ollantaytambo – Aguas Calientes
Today is all downhill until the end of our Ancascocha Trek, we leave the arid highlands and enter to a lush valley full of exquisite and abundant Andean flora and fauna, hummingbirds and hopefully, flock of parrots. We will see the confluence of three rivers and the wakay Willka Glaciar will surprise us with its spectacular beauty and awesome presence.
Gradually, the valley becomes a narrow canyon leading Sillque the river towards the village Camincancha in the Chilca valley, the end of our trek. From here we will take our transportation to the town of Ollantaytambo, where we board the train to Aguas Calientes Hotel.
4-5 hours walking, 4700-2900mt.
Day 4: Machu Picchu – Cusco
Early morning after a great breakfast in our hotel, we will try to catch one of the first buses up to Machu Picchu and see the inspiring view one of the new 7 wonders at sunrise. You will explore the Machu Picchu citadel with a professional tour guide for 3 hours, visiting the most important temples and palaces.
After the guided tour, you will have free time to climb Huayna Picchu, explore the city, or simply relax. In the early afternoon we take the bus back down to Aguas Calientes and catch the train back to Cusco.

Inclusions
Included on Ancascocha Trek
Airport/Hotel.- On your arrival in Cusco Aiport one of our representative will be waiting for you with Inka Trail Explorer Logo and will pick you up and take you to your Hotel, we only include 1 pickup.
Professional Tour Guide.- Inka Trail Explorer has a staff of professional tour Guides with University degree, all of them have studied tourism and English. They all are passionate with their job and they are highly prepared in the History, Archeology, and also in the Astronomy, they always will be happy teaching you about their heritage.
Briefing.- The night before the Ancascocha Trek, your guide will give you all detailed information about your trek schedule, an also you will get your duffel bag, which is to fix your personal belongings no more than 7kg / 14lbs. you have to include your sleeping bag and air matt in case you have or rented.
Horses.- We do use horses for this Ancascocha Trek. Horses are going to carry all camping equipment, food supplies and your duffel bags. Also we include an emergency horse on Ancascocha Trek, if you feel tire or need a break, so an emergency horse is waiting for you.
Huayna Picchu/Machu Picchu Mt.- Huayna Picchu Mt. stands behind Machu Picchu; the views from the top are spectaculars. It takes 45 minutes to reach the top and 45 minutes back down it is quite steep, we highly recommend climb in the second group which is at 10am and so much better views.
Machu Picchu Mt.-  Stands on the left side of the citadel, is another mountain with great view and it takes 3 hours walk up and down, If you are interested to experience this adventure you need to book in advance, you can start climbing any time from 7 to 8am.
Entrace Fee.- We include all the entrance fee to the trail to Machu Picchu, Huayna Picchu or Machu Picchu Mountain. You need just mention which mountain you like to climb.
Hotel.- Inka Trail Explorer include 1 night in a hotel in aguas Calientes the town below Machu Picchu, this is 3 stars Hotel; your booked hotel will be listed on your confirmed invoice. Upgrades are always possible. This 3 star hotel is based on sharing a room – either double, matrimonial or triple, there is a single room surcharge if you are booking alone of $30 US per person. Rooms all include private bathrooms with hot showers and wifi. We can also upgrade your hotel if you prefer something a little fancier.
Transportation.-We include all the transportation needed for this Ancascocha Trek like bus and train, when you travel with Inka Trail Explorer you do not have to be worry about the Transportation. From the very beginning of the trek we pick you up from your hotel and when you finish your Ancascocha trek we leave you in your hotel, our train service is expedition class it can be upgraded to the Vistadome train.
Camping Equipment.- Our camping equipment is from the best quality and very comfortable, each Tent will be shared by 2 people, except if you request for a single tent, we provide spacious dining tent and kitchen tent.
Food.- Our amazing and experienced chefs, they prepare all the meals and they make magic happens during the Ancascocha trek in a small tent over a single flame. We provide all natural and fresh vegetables and selected meat proper from the Peruvian Andes. We honor all food restrictions, but you should mention as soon as you are booking your trek to Ancascocha. Food is served family style and you will enjoy our traditional dishes from Peru and Cusco. We include 4 breakfast, 3 lunches, 3 dinners and every day in the morning your chef will provide you a snack to enjoy along the trail.
Water.– Beginning from your first lunch until your last breakfast, Inka Trail Explorer will supply all the water you need. The water you will get from us is straight from the glaciers and streams, it will be boiled, filtered and cooled before it will be distributed. You must bring your own water bottles or camel back. Highly recommended carrying about 3L, you have the chance to refill your bottle every day at each meal.
Not Included on Ancascocha Trek
Sleeping Bag.- You really need a sleeping bag when you choose trek to Ancascocha. Our first campsite is above (4,300m /14,018ft) is very cold at this elevation, we highly recommend bring a Sleeping bag for -10C (it can be rented from us).
Inflatable Air Matt.- It is optional but it helps in getting a good sleep, (it can be rented from us). If you have your own bring with you, we highly recommend.
Walking Poles.- Highly recommended. It helps to keep your valance especially when you go steep downhill and it must have a rubber tip when bringing your own, if you do not have (it can rented from us) aluminous professional walking poles.
Lunch.- We do not include lunch from the last day, after you visit Machu Picchu and before you take the train you have time to stop in Aguas Calientes and you can enjoy your lunch, so we can recommend you one of the best restaurants.

Prices
Ancascocha Trek – Prices
Inka Trail Explorer warmly welcomes to you, and we really want to make the best experience for you on this Ancascocha Trek. Our departure treks can be any day of the week, 12 months a year.
Price: USD 635 Per Person – group service
A group Service means that it is open to other trekkers to join you. Your group will have varying hiking and fitness abilities. All our Guides are experts on how to keep the trek moving and happy no matter how fast you go.
Private Tour Service is available and priced by party size
The Inca Trail is the best trek to Machu Picchu, even better if you do just with your friends or loved ones. Our private trek can start with any size and we will do all our best to make the best experience for you.
2 Hikers: $710 per person
3 Hikers: $690 per person
4 Hikers: $665 per person
5 Hikers: $645 per person
6 Hikers: $620 per person
7 Hikers: $590 per person
8 or more Hikers: $565 per person
Discounts:
Student Discount: US$20 (Requires ISIC Card to qualify)
Student Discounts apply to anyone who has a valid GREEN ISIC card at the time of the trek or is 16 years old or younger. For those using an ISIC card to receive the discount, we do need to see a copy of the card at booking. For those booking children 16 years old or younger, we need a copy of their passport at booking time. Please send all to info@inkatrailexplorer.com

Optional Extras
Ancascocha Trek – Optional Extras
Optional Rentals
Sleeping Bag US$25
Walking Pole US$8
Inflatable Mattress US$25
Single Tent Supplement US$30
Optional Upgrades
Vistadome train.- (One Way): $65 per person
Santuario Hotel. – +$45 US p p shared (+$110 for a single)
Casa Andina Hotel.- $55 US p p shared ($110 for a single)
El Mapi Hotel.- +$65 US p p shared (+$170 for a single)
Additional free tour
If you are traveling with the family or friends and you are 4 or more people in your group, you automatically get for free one of our additional tours what you like more from the List down below. Plese, we do not include the entrance feeds, we include the transportation and a professional tour guide.
Do not worry single travelers, if you book any treks with us, you get a special discounts on any of our additional tours
South valley tour
Maras Moray Tour
Sacred Valley Tour
City tour
Packing List
Ancascocha Trek – Packing List
Essentials
Passport
Valid, GREEN ISIC card (if you booked as a student)
Immigration Card (given on the plane as you enter Peru)
Good daypack (the smaller, the better)
Water storage: Water reservoir like Camelbaks are encouraged – but enough for at least 2-3 liters.
headlamp
Comfortable hiking boots with ankle support
In your Duffle Bag
Remember you are packing for 2 nights of camping and 1 night in a hotel. Horses will carry up to 8 kg of your personal items. This must include your sleeping bag and air matt (if you bring/rent one). From us these two items weigh 3.5 kg.
2 wicking t-shirts
2 hiking pants
4 sets of undergarments
3 sets of hiking socks
1 Fleece
Warm, down jacket: this trek includes 2 cold nights camping
Waterproof gloves (even if they are ski gloves, take them)
Comfortable shoes for camp
Quick dry towel. We provide small ones, you might enjoy something a little larger.
Small bottle of soap: we provide warm water each day to clean
Battery Charger: There is no place to plug in while trekking!
Large plastic bags: to help organize and keep clean from dirty.
Sleeping bag: Recommend down bags for -10C at least
Toiletries
Face moisturizer
Wet wipes
Toothbrush and paste
Toilet paper
Personal medication
First aid kit: band aids, moleskin, etc.
In your Daypack
Daypacks can be any size for hiking, but we always recommend small one. Inside Machu Picchu, no bag larger than 25L will be allowed in. If larger, you will need to store outside citadel gates.
Water: we supply clean water at each meal. You are responsible for your first morning of water only as we won't have time to filter water until your first lunch.
Sunhat
Wool hat
Sunscreen
Rain gear
Fleece
Camera
Hand sanitizer
Toilet paper and small plastic bag for waste
Extra Money for Souvenirs, Drinks & Tips
Booking
Ancascocha Trek – Booking
How to book
It's always better contact us directly and confirm with our team before your booking. Once you are ready, please fill in our Booking Form and pay the Deposit of $200 US per person. Our office will email you back that day with your confirmation. We always send out confirmations, so if you don't hear from us, check your spam or contact our office and we will resend.
We are so excited to take you on the Trail and thank you for your preference.
---
---

We Are: Juan de Dios Aedo
Short Inca Trail Trek [VIDEO]